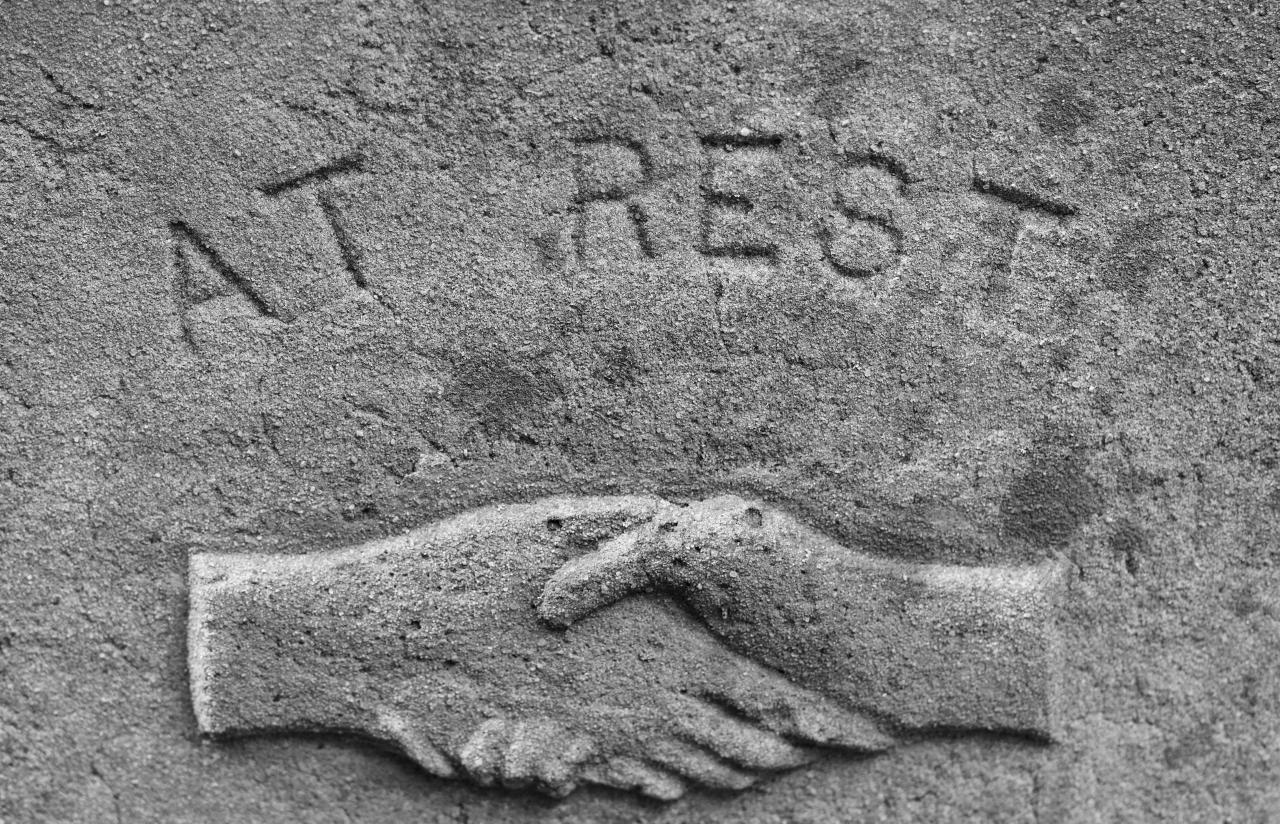 By Sarah Meyer
The new Executive Director's father is dying. Her name is Angela; she moved here from northern Virginia and has brought him with her. She holds his elbow, and together they learn this small town in North Carolina. They walk carefully over the cobblestones in the parts of downtown still cobbled. They examine the construction, having never seen the slender strip of grass that used to be where these cement blocks and this mound of dirt now sit. In a year or so the block extending east from the obelisk will be a bigger expanse of grass, a real park: with benches, one of those water spouts for kids in summer.
Her father is old and has dementia. She wears what she can of his condition inside her own body and it shows. She worries, calls her new rental house from the office throughout the day to make sure he answers. When he doesn't, she drives home and back, reports that he was asleep. This is how she learns her way around.
The Asheville Citizen-Times and the free weekly run articles announcing her hiring. I watch her try to fix her hair for the photos: she stands in the gallery next to a banner I've never seen, retrieved from the basement. It has our logo on it. Asheville Area Arts Council: AAAC. Our town is glad she's here. We shake her hand with both our hands. Sometimes we clasp her forearm. We nod our heads, tell each other Oh, her father. We say to ourselves, It's so sad. We say, She has so much on her plate. So much to do. We're a town of artists and college students and retirees, and we have been waiting for her. We radiate excitement to watch her try to live. We love seeing her walk her dad across the street from the office to get ice cream.
•••
In Florida, in the '90s, families that we knew and did not know were buying tarps and specialty fencing and in other ways trying to prevent this thing that took over like a wave, like an accidental fad. It was the thing that kept happening: people's children were drowning in their own pools. My dad, a pediatrician, was interviewed on the local news and my sister and I felt famous by extension.
One family we knew bought a pool fence to prevent this exact thing from happening, but their baby followed a cat through the crack between the latch and the rest of the nylon fencing. A grandparent was babysitting and had fallen asleep.
And another: my third grade classmate's baby brother, a fat toddler who accompanied us on school trips when his parents chaperoned. He was famous for this wiggly dance, probably the product of just having learned to stand upright, that was like the chicken dance only shorter and unplanned. The memory I have, that I return to every few years, is of this baby wobbling around in a diaper outside the Arlington Street pool. We had gone on a field trip. My friend's brother did his dance and our whole class stood around him, and his dad was there and we laughed.
These things did not happen in public pools, though, only in the carefully planned backyards of the people who loved their babies. And so, weeks or months later, my friend's father fell asleep while his baby was awake and curious. It was the first funeral I ever attended. I sat with another classmate, and I don't remember if my parents were even there. The baby's dad stood at a podium and sobbed. He said he would miss that little dance so much. He held tight to the podium and we watched the rest of his body try to collapse and he shook. His hands were the only still parts.
•••
Four days after Ryane's dad dies I email all of our friends. "I wanted to let you know that Ryane's dad died on Monday morning. If you have a chance and are inclined to send her a note, I know she would appreciate it. We don't yet have email at the house, but the physical address is…"
He died three weeks after his fifty-first birthday. Ryane was twenty-five. Three of our friends respond to my email, telling me to tell Ryane they are sorry. One person delivers Tupperware ravioli while we're in Indiana for the funeral. One sends a note in the mail saying she wishes she could give Ryane a hug.
•••
At funerals, the idea is to look around: to see the group you're given to grieve with. A temporary family, or an actual family. A room full of people with similar, complicated feelings.
The idea is once you walk out of that room, away from those people who understand what you feel because they also feel some version of it, subsequent acquaintances are less likely to understand. They might not understand at all.
A friend drops off a Tupperware of ravioli while you're out, never to mention your loss again.
A friend asks, within months, why it's still a topic of discussion.
People extend birthday party invitations, or they don't extend them at all. Both situations feel the same.
No one mentions it.
Or a few people mention it, asking, How are you? when there is no answer. Thinking about you, xo.
I study the grief around me to understand my own, which technically hasn't happened yet. I grieve a family that still exists, parents I can call on the phone today, who were always just themselves instead of the people I needed them to be.
Waiting to actually lose someone can become confused for actually having lost them, after a while. We humans float around each other in so many ways.
•••
Angela has moved her father back into his house in Florida. At first he manages with the help of nurses whom she pays to stop by. But he falls, forgets who they are, becomes upset when they unlock his front door one by one and enter as though it were their house. He calls her at work, and through the drywall separating her office from mine, I hear her whisper insistent Spanish into the receiver. Mira, Papi.
She has him transferred to an assisted living facility somewhere east of Orlando where he has limited telephone privileges but nurses sometimes call with updates. Every six weeks or so she flies on Allegiant air—tiny planes to tiny airports, something like $86 round-trip—to Sanford, rents a car and drives to visit him. She flies back frazzled, calls from the car on the way back from the airport, asks questions the answers to which she does not hear and says she'll be in the office later.
•••
"Thanks for coming," Dad says to us at our gate, before we board. My sister and I are in the Montgomery airport. Because Mom and Dad flew up early, we're on separate flights and they don't leave until tomorrow. When he says, "Thanks for coming," he refers to our attendance of his mother's funeral. Breast cancer. "Thanks for coming": we hadn't thought it was optional. We board our plane and return to high school. Our friends say, "Sorry about your grandma," and we say things like, "Thanks," and "She was old," because we don't know how else to respond.
She'd been sick for a while, in and out of the hospital, and when my dad wasn't addressing her by her first name in exasperated tones over the phone he was arguing with my mom about the money he was sending to his brother to care for her. This serves as a reminder to us that it is always possible to walk around something too vast, to fight about something like money instead.
•••
We've just moved into a new house and are sleeping on the floor, on a mattress exhumed from the pullout couch. It is seven-thirty in the morning and Ryane is dreaming that her father has died. In the dream, she's misheard someone. At first she thinks her grandmother is dead. Then she realizes her grandmother is alive, that her father has died instead. She asks again to make sure. Yes, he's dead, someone tells her. In the dream she cries and cries and cries, and when she wakes up she thinks she's been crying in real life but hasn't been. She wakes up because my cell phone is ringing. The light outside is lazy. Did we set an alarm? The phone is plugged in, ringing next to the bed on the floor. I look at the area code. It's Bloomington, Indiana. I hand the little phone to her and know.
"Hello?" It's her grandfather. Her phone is dead and he's been calling it for hours. I watch her start to cry and I hold onto her shoulder. "This morning?" she asks into the phone.
When she hangs up she says, "I dreamed that he died!" She is wearing a white men's undershirt and she sits upright in the bed, hunched over like another broken thing.
•••
There are the religious concepts. Let us confess the faith of our baptism as we say I believe in God the Father Almighty, maker of heaven and earth, and in Jesus Christ his only Son our Lord, who was conceived by the Holy Ghost,
They do not help. Rather, I do not know whom they help. Rather, they do not help me.
At the funeral of a man who had waited for his wife and children to leave for work and school, walked to the shed, grabbed a shotgun and sat down under a tree in his backyard to shoot himself in the face, hundreds of us pour into a Western North Carolina hillside chapel to hear the minister say, If God is for us, who is against us?
This was when I dated Zoe. The dead man was her coworker. I had never met him or his wife or his children. The day before, after the body was removed and the grass under the tree was cleaned and the shotgun destroyed and the widow and her children had gone to her parents', Zoe and her coworkers and I drove to the widow's house with boxes and duct tape and markers. Into the boxes we put his clothes, their photo albums, framed images taken from the walls and coffee tables of their wedding, vacations. We took the sheets off the bed. We collected anything that seemed like his and wrote things on the full boxes like "clothes," "photos." Half the house went into storage for when she was ready to come back. She would look through the "clothes" and "photos" when she was ready.
That was over a decade years ago and I wonder how long it took her to be ready. Has she retrieved those boxes yet? Has she sold the house? Did she even ask for us to do that? All I remember is being invited to join.
If God is for us, who is against us? The packing day and the funeral day: one felt like prayer, the other just something to be done.
•••
After we found out Ryane's dad had died, there were logistics. We needed to drive to Virginia to pick up her mom and youngest brother, and from there go to Indiana where her dad's body and Ryane's grandparents and middle brother were. But first I had to do two things.
When I called Angela to say I wouldn't be coming to work for a few days she said, Oh my God I'm so sorry and Can you drop those prints at the framer's before you leave? Ryane and I had been moving from the house on Arbutus to the one on Larchmont, and were supposed to finish cleaning out Arbutus that weekend. Instead we were driving to Indiana. After hanging up with Angela I called the Arbutus landlord and told him we needed more time. He said he had renters moving in on Thursday and couldn't give us any. I told Ryane I had to run errands before we could leave and she said that was fine even though I knew it wasn't. She sat very still in the deep-cushioned yellow chair I'd gotten at Goodwill the year before. "I'll pack a bag," she said, but she didn't move.
During the drive to the framer's I held two thoughts in my head: I'm doing the wrong thing by running this errand and This absolutely has to get done right now. The Arts Council had contracted with a new Hyatt to provide art for the walls, and it was a disaster. The artists were being underpaid for their work and asked to sign away rights of ownership. Because Asheville is a town of struggling artists, they all said yes but hated us for suggesting they do it. For the last week I'd been taking call after call from frustrated painters, trying to calm them and failing. And the framer, who'd agreed to take on the project at a significantly reduced rate, had been waiting for Angela to bring the prints all week. On Friday Angela had finally just stuffed them all in my car and told me to do it Monday morning.
"I have other customers, you know," the framer said when I got there.
"Michelle, I'm sorry," I said. "I don't know why Angela didn't drop these off." I suspected she'd just forgotten. Sometimes grief takes over before the person you're grieving has gone.
Afterward at Arbutus I stuffed everything I could from that house into my car. In the years that followed, every once in a while Ryane and I would realize something else left behind in that basement.
On my last trip to the car I stopped in the front yard. We'd planted sunflowers along the fencing and walkway that spring, and few had bloomed. The soil wasn't very deep and elms shaded our corner of the neighborhood. But next to the mailbox a mammoth sunflower had been growing up and up. When we'd last left Arbutus, Ryane's dad was alive and the mammoth's face had appeared but not opened and Ryane was wondering whether she should go up to Indiana for a while to be with him. I stuffed some loose kitchen utensils in the trunk of the car and stood there. Ryane's dad was dead. We would never live in east Asheville again. Peter was dead. Later I would see his body. I would need to know the correct things to do and say this whole week. I would need to say the soothing things and first I would need to think of what those things could be. And I would need to say goodbye to someone who had started to become a parent to me.
The sunflower had opened overnight. Half of its fingery petals extended from its face, and the other half still held to the big center circle. It was an eclipse. I convinced myself our one sunflower had opened part way because Peter had died. I texted Ryane a photo and left to pick her up for our drive to him.
•••
At a gallery opening Angela has one glass of red wine and yet appears to be deeply intoxicated.
"Have you seen The L Word?" she asks me, because I am a lesbian and the show is about lesbians and because she is newly brave and apparently has been waiting for the moment to ask. She leans across the sales counter behind which I stand. Patrons mingle around us. Here we are, the only two staff members left. Everyone else has quit.
"Yes," I say. "But it's not a very good show." She agrees and then switches topics.
"Have I told you I have fibromyalgia?" she offers.
"No," I say.
"For ten years. I've been to many doctors."
What I know about fibromyalgia is that it's contentious, that some doctors don't even believe it to be an actual medical ailment, that rather some believe it to be a psychosomatic manifestation of emotional problems: physical repercussions to psychic issues. I know that it presents as a series of seemingly unrelated pains, sometimes diagnosed as rheumatoid arthritis, other times as the flu, other times as fibromyalgia, other times as depression. Fibromyalgia has no cure or known cause.
What I now know about Angela, as I stand at the sales counter watching the minglers adjacent to her slack body, is that she takes painkillers and occasionally mixes them with alcohol. What I know about Angela is that certain chemical reactions are happening in her bloodstream in possible parallel to the bodily emotional stress of preemptive grief. I know she is suffering in a number of ways.
•••
Of course it's hard to know how to close the gaps between us. We spend the most trivial moments together: at work, in classrooms, splayed on couches talking on the phone, and when the inevitable happens we look each other in the face and don't know what to say. We are suddenly strangers and this is how we lose each other in little bits. When my grandmother died, I wrote letters to my mother and her three siblings saying how sorry I was, that I couldn't imagine their grief at losing their only mother, and none of them responded. I assumed writing the letters had been the wrong thing to do. When Peter died, our friends waited quietly at the edges of Ryane's grief for her to return to real life. But the place she was in was also real life. Our friends were so patient with their furrowed brows and genuine concern, waiting. Eventually everyone forgot they were waiting. Eventually everyone but Ryane forgot that her father was dead. Inside our little house on the steep hill on Larchmont Road, inside her grief, Ryane and I talked about how what they were doing was the wrong thing.
But how do we do this?
What is supposed to help?
What is the right thing to do?
"Tell me how you're feeling," I say to Ryane as she sits upright in bed sometime later, after everything has been moved into the new house. She has tears on her face, but new ones have stopped coming. "You can just feel however you feel about this," I say, because granting permission for the things I can't control seems like a possibility somehow. She hears me, and doesn't respond. She sits propped against two pillows, her shoulders tilted inward, and I rub her back as she looks out from opaque blue eyes toward nothing.
•••
SARAH MEYER is a writer and illustrator who lives in Chicago. Her writing has appeared in VICE Magazine, Paper Darts, and The Manifest-Station.