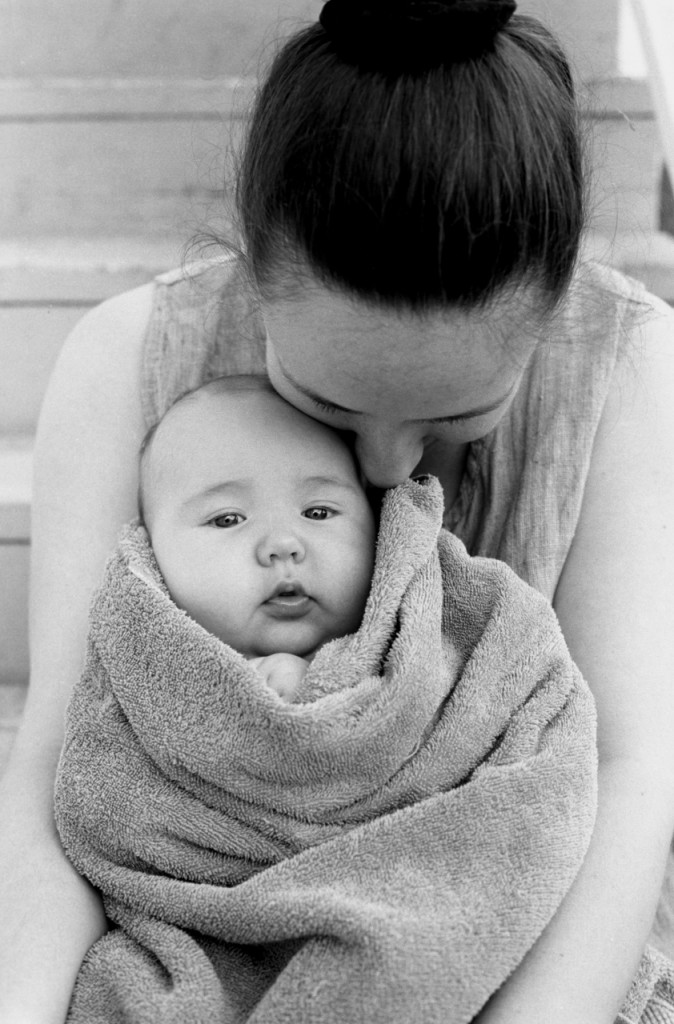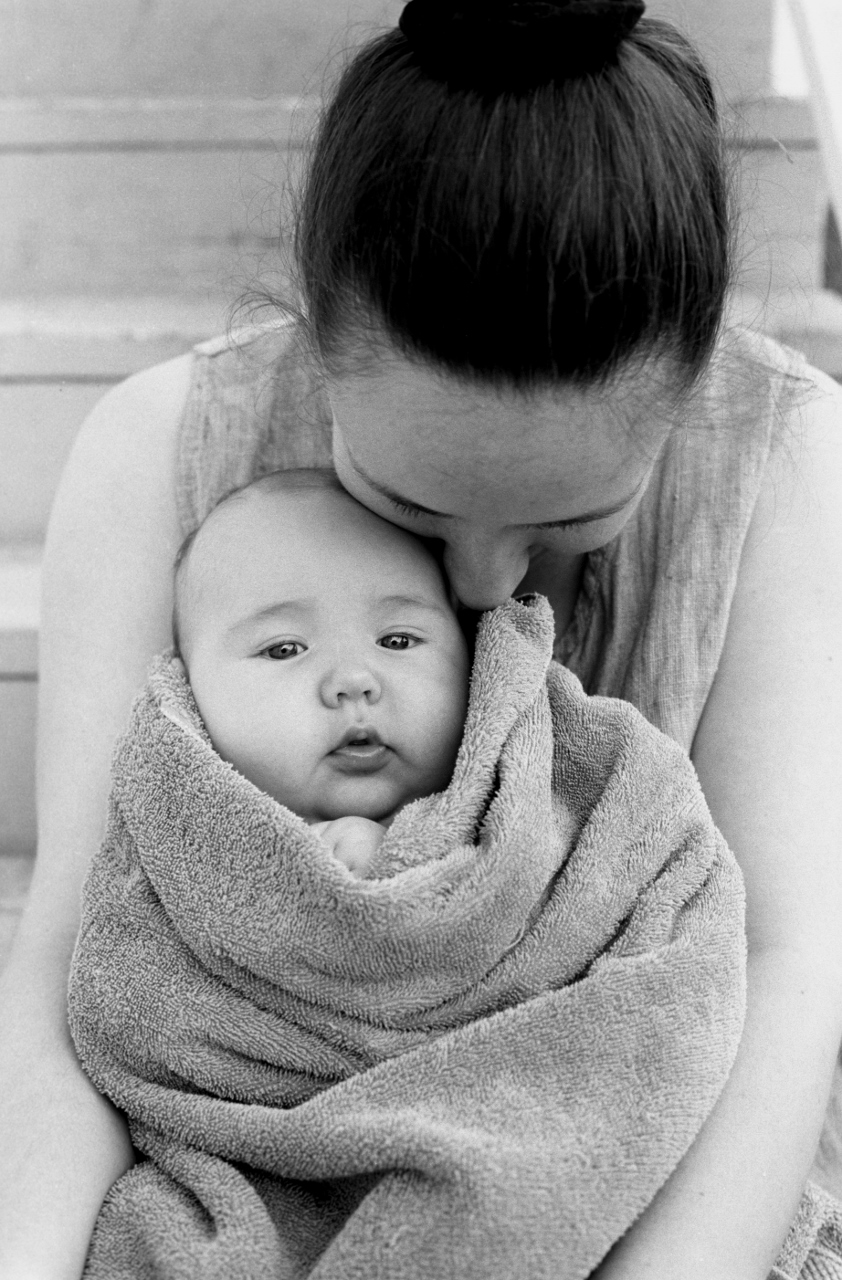 By Corrina Wycoff
At six-thirty on the morning of October 1, 2015, I drove a rented minivan down Canal Street in Lower Manhattan, trying to figure out how to get to Brooklyn. I'd taken the red-eye flight from Washington State, where I live, to Newark Airport the night before. I had no internet access, no GPS, no interstate road map. I'd brought hard copy directions for only one route, which highway construction had promptly rendered irrelevant. So, after an unplanned pre-dawn detour through Elizabeth, New Jersey, I blindly picked my way to the Holland Tunnel, subsequently missed the exit for the Brooklyn Bridge, and now hunted for the Manhattan Bridge. On the radio, weather forecasts worried over newly christened Hurricane Joaquin, which could soon make landfall in New York.
I'd grown up in New Jersey and, long ago, had frequented New York City. But now, at forty-four, I felt disoriented by even the few landmarks I recognized. In truth, disorientation had been the leitmotif of my forties. When I was forty-one, Asher, the child I'd raised, moved to Bellingham, Washington, three hours from home, to attend university. Now, three years later, he was a twenty-one-year-old college graduate and had relocated again, this time to New York to begin a doctoral program on a fellowship. He'd initially rented a room in Manhattan's Vanderbilt YMCA. Today, he began a lease on his own Brooklyn apartment.
After an hour rectifying wrong turns, motorists tailing me, honking, I found the bridge and crossed the East River. Asher had arrived in New York with two suitcases of clothes and books. He needed everything. I had a rented mini-van, a two-night stay at a Brooklyn inn, and $1,500. And, in the next forty-eight hours, Asher and I needed to buy, haul, and build an apartment's worth of IKEA furniture, procure every necessary household item from cutlery to curtains, and cobble together a grocery larder from merchandise sold at neighborhood bodegas and Duane Reed pharmacies. Still, as I drove the unfamiliar Brooklyn streets, I paradoxically felt newly grounded, about to be reunited with Asher and with my previous raison d'être: day-to-day tasks of single parenthood. Without those tasks, I'd lost my bearings completely.
I got pregnant with Asher when I was twenty-two, too old to be unprepared and too young to be well-prepared. Parenthood gave me direction; like many young mothers, I grew up because of my child. Before motherhood, I'd been a tepid student who did well in subjects I enjoyed, struggled in subjects I didn't, and spent very little time studying. As a mom, I had a perfect GPA; I earned a bachelor's degree when Asher was four, a master's degree in English when he was five, and a Creative Writing MFA when he was seven. Before Asher, I reliably held down dead-end jobs. By the time he finished first grade, I had a profession. Teaching community college English, I designed curriculum, spearheaded committees, and received tenure shortly after Asher's tenth birthday.
It's not as if we didn't struggle. Motherhood, though, made small triumphs seem not only possible, but necessary. Statewide budget freezes stalemated my salary, but I managed to save four years' worth of in-state college tuition for Asher in a 529c. I was diagnosed with an auto-immune digestive condition, Crohn's Disease, but I managed to maintain my schedule despite the disease's erratic flares. No matter how sick I got, I rarely missed work and never missed Asher's school concerts, back to school nights, fund-raisers, or doctor's appointments. I was awake at five o'clock many mornings and still awake most nights at midnight. I taught twenty-five to thirty credits a quarter, a sixty-hour work week I organized, as best I could, around Asher's six-hour school days. And yet, I managed to read and write a lot. Before Asher, my rough drafts remained unrevised and unpublishable. Now, my stories and essays got finished, sometimes got picked up by journals, and, just before Asher entered high school, my first book was accepted for publication.
I approached his adolescence with considerable apprehension, but Asher was a teenager with excellent grades and SAT scores. He fell in love with political theory and read difficult texts, which he could discuss with striking recall. He amassed an impressive vocabulary, played guitar, maintained friendships, sometimes dated and sometimes didn't, and sang bass in his high school choir. He had no worst-case scenario teen problems—no tendencies toward violence, self-harming, substance abuse, or devastating dishonesty. He had no trouble at school, with his friends, or with the law. And he had no trouble with me. We shared a 425-square-foot, two-bedroom apartment in Seattle. We invaded each other's space with our music, habits, and moods. During tense, protracted moments, we got on one another's nerves. But with the exception of occasional, brief temper flares, we got along. We had to.
During those years, we shared certain tastes: Tim O'Brien, Slavoj Zizek, Phil Ochs, and college radio. We saw Neutral Milk Hotel and The Mountain Goats in concert. He taught me to like folk-punk. I taught him to like Stephen Sondheim. My leftist political leanings influenced his until his radicalism far outstripped mine. At sixteen, he marched in anti-capitalist protests and wrote original songs, one of which contained the lyric, "Please don't call me a socialist. You don't know what that word means." Once a week, we'd go out to dinner at mid-priced neighborhood restaurants. One hosted a trivia game, and we'd lose spectacularly in categories dedicated to pop culture or the Beatles. We had favorite servers whom I tipped lavishly, a habit Asher lauded and would later adopt.
It was halfway through his senior year of high school when Asher decided to attend college in Bellingham. He would begin undergraduate studies shortly after his eighteenth birthday. That summer of 2012, fueled and afflicted by an almost unimaginable level of anxiety, Asher and I took long walks whenever time allowed. We walked from our Seattle neighborhood, Capitol Hill, to Ballard, a neighborhood seven miles north, and back. We walked around Lake Washington. We walked the entire length of the cities of Eugene, Oregon and Olympia, Washington. We walked five or six hours at a time, barely speaking except to recycle familiar, longstanding exchanges about punk music, politics, superficial happenings, and light memories. Maybe we were both too terrified of what came next to talk about it. We probably should have talked about it.
The day I moved him to Bellingham, we played Frank Turner's "This Town Ain't Big Enough for the One of Me" in the car and sang along to calm our nerves. By the time we'd driven through two counties, even singing was too much, and we played that game of finding letters of the alphabet, in order, on billboards, road signs, and business marquis. We seized happily on the Quality Inn when, for several miles, we'd needed a Q.
In his dorm room, I helped him unpack his belongings, putting sheets on his plastic mattress, stacking his jeans and T-shirts in the cramped, musty wooden dresser drawers. I couldn't identify the lumpy, khaki-colored goo on one of the bedposts and was glad that Asher had arrived before his two roommates so he wouldn't get stuck with that bed. Even having lived in small apartments my entire adult life, I couldn't imagine how the room would possibly accommodate three occupants. And, in fact, by winter term, one of the boys would have left school and Asher would have moved off-campus, into an apartment of his own that he'd keep until he moved to New York. But in that moment, I imagined this would be his home for the full year. Before I left, Asher stood just inside his small room, and I stood in the hall. We looked at each other over the threshold. I said, "Well," and it seemed to occur to both of us, possibly at the same second, that I was getting back in the car to drive three hours home without him. I saw my own panic mirrored in his expression.
Over the next several months, as Asher got increasingly acclimated, and then attached, to academic life, I'd probe the anxiety I continued to feel. Particular fears, I knew, necessarily accompanied launching a child: What if they get lonely? Hurt? Hungry? Disappointed? What if they fail in the very ways they'd most hoped to succeed? What if they begin to regard us—their parents—in our increased obsolescence, with embarrassment and contempt? I shared those fears with most parents, but, like most parents, I also knew these things would happen to my child at some point, that they happen to nearly everyone. So, what was it, exactly, that I was afraid of?
I recalled that, during my years of single parenthood, I'd sometimes optimistically anticipate the roomy, productive life I'd lead after he left for college. I'd exponentially increase my writing and reading; I'd foster animals, go to conferences, make new friends, go to happy hours with colleagues, and join a gym. Instead, my life lost its shape. I went to work and I went home. I carpooled with my boyfriend, a single parent himself with a seventeen-year-old son. We'd say good-bye before dinner-time. He'd go home to the fully occupying duties of parenthood, and I'd regard the long hours ahead of me with alarm. He'd look at me with concern. What happened—he seemed to wonder—to the girlfriend he'd known, to the competent woman who made productive use of her time? I didn't know. My time, I realized, was now the source of my fear.
I fostered no pets, attended no conferences, and made no new friends. I went to happy hour twice before declining further invitations. I joined a gym, attended briefly, and quit. I couldn't sleep. Unable to focus, I'd squander hours looking through other people's Facebook pictures, people who still had at-home children, who smiled with them at dance recitals and family dinners. Or I'd pace my empty apartment, saying mundane things aloud, like, "My goodness, I'm nearly out of shampoo!" Still awake at two in the morning, I'd watch through the window as my neighbor, a woman in her early sixties, staggered to her kitchen sink to pour out the remnants of her long night's second or third box of wine. I knew she had a grown, far-away child. I worried that, in her, I glimpsed my own future.
I stopped reading and, worst of all, I couldn't write. I revisited an old manuscript, revised it, re-revised it, and sent it to a publisher. But that was the most I could do. Whenever I tried to begin a new project, the blank document on my computer screen stayed blank. Or I'd write a sentence or two, lose heart, and delete everything. More than writer's block, I felt the same "blank page" horror about writing as I did about every area of my life.
By late spring of 2013, Asher had been settled at his university and in his off-campus apartment for some time, and—still unable to sleep, read, or write—I started spending evenings in my kitchen, baking. I'd been a competent, though unadventurous, scratch baker when Asher lived with me—occasional cookies or muffins for him, occasional cakes or pies for company. But now, I became fearless. I figured out cream puffs, cake pops, and Turkish delight. I went from someone who knew how to clarify butter to someone who knew how to make butter. To justify the time and money I spent on my habit, I baked for my students. I baked for my boyfriend and his son. I brought goodies to colleagues. I mailed them to Asher and to out-of-town friends. I baked pies for my apartment manager, for workmen coming to fix my sink, for my physician and his staff. I baked all evening, nearly every evening. Then I branched out into meals, doing everything the long way: Manicotti with handmade shells, enchiladas with handmade tortillas, saag paneer with handmade paneer. I bought fenugreek and sumac and saffron. I made meals for anyone I could think of, including a group of women I barely knew, whom I'd met through a Crohn's support group I began attending because, one evening a week, the group gave me somewhere to go.
More than a year after Asher left for college, a handful of women from the support group began coming to my apartment every Tuesday, after our meetings, to cook with me. They were busy wives or moms with at-home kids, dependent on pancake mixes and boxed foods the way busy people often are. They wanted to learn, and figuring out how to teach them became the organizing principle of my post-parenthood life. No, I couldn't read novels, but I could read ethnographic cookbooks. I couldn't write essays or stories, but I could write recipes. We called ourselves the Crohn's Crones, and we cooked together for nearly two years. At our zenith, we provided make-ahead meals for up to seventy people. For the Crohn's Crones, I planned menus, disseminated shopping lists, determined the division of cooking labor, cooked, oversaw other people's cooking, and coordinated packaging and distribution of food. Every Tuesday evening, we'd cook until after midnight, elbow to elbow in my tiny kitchen, crowded so tightly that bruises and burns and broken dishes became weekly expectations. And, every Wednesday, after delivering my portion of the previous night's food, I'd begin figuring out the next week's recipes.
Meanwhile, my brainy teen became a true academic. On track to finish his BA one year early, he began to prepare graduate school applications. He applied to five programs, four at others people's suggestion, and one, the CUNY Graduate Center, which he'd chosen because its faculty included theorists whose writing he admired. I imagined him walking down subway steps in Manhattan, freshly dry-cleaned shirts on hangers, over his shoulder. Compared to his scholarly acumen, my time-consuming cooking project seemed senseless—evidence, I worried, that the productive focus I'd found during motherhood had been permanently replaced by nebulous, dead-end ventures similar to those I'd known before he was born. And as though to punctuate this worry, the very day Asher received his acceptance and fellowship offer from CUNY, the publisher to whom I'd sent my re-revised book, and who'd held it in hand for more than a year, rejected it.
I sent the manuscript out again just before Asher graduated university, Magna Cum Laude, in June, 2015, the day before his twenty-first birthday. He would move to New York that summer and begin his doctoral studies that fall. He seemed delighted, full of hope and excitement. I, on the other hand, lying awake at night, still unable to read or write, anticipated his future with a kind of terrified admiration. Asher had been to New York City exactly once before—a tenth grade choir trip. At just barely twenty-one, he was moving across the country to a city of nine million strangers. He had no housing lined up beyond an extended stay at the YMCA. "I'm figuring it out, Mom," he told me. "Don't worry."
But, during those anguishing weeks he spent at the Y, it seemed perhaps that it wouldn't get figured out. He answered Craigslist ads for roommates, went to see person after person, place after place. He waited outside a shabby month-to-month basement rental in Queens for a landlord who didn't show. He'd text me every day. "Moving to New York was a terrible idea," he wrote once. Finally, he secured a rent-stabilized studio in Brooklyn's Bedford-Stuyvesant neighborhood, and now it was October 1, 2015, and I was here—on a quiet, residential street, outside a charming, old brownstone—enjoying the chance, however ephemerally, to be a mom again. Brooklyn is fewer than thirty miles from Newark. The drive took four times longer than it should have.
We started in high spirits—maladroitly stacking boxes of IKEA merchandise on a flat-bed cart, too heavy for us to push with any accuracy, laughing as we wrangled the boxes into the back of the rented mini-van and then, again, as we heaved them up the narrow stairs of Asher's walk-up brownstone. We laughed at the municipal, unwelcoming "NO SMOKING" signs in his building's hallways and at the industrial garbage can his landlord had left behind, a giant in Asher's 300-square-foot apartment. We laughed as we spent an hour, and then two, and then four, building dressers and bookshelves, and trying to figure out the inscrutable IKEA instructions for his daybed. We got hungry and tired. We hammered our fingers and swore. Just past midnight, we called it a day. Because we hadn't finished building his bed, he stayed in my hotel room that night. We tried to maintain good humor, noting that one of the room's beds was a Murphy and that the bathroom's strange shower, straight from horror movies, had a wall of tiny spigots that looked like grimacing mouths.
The next day, we went to the Target store on Atlantic Avenue. Hurricane Joaquin had blown out to sea, but Brooklyn suffered collateral rains, deep puddles, and strong wind. Crowds filled the store where shelves were largely bare. There were no microwaves, no brooms or dustbins, no curtains, no curtain rods. An emergency exit alarm blared for an hour before someone deactivated it. Later, we would be able to find humor in the young Hasidic children, whose mother was not much older than Asher, tunelessly playing plastic kazoos in the cleaning supplies aisle. Asher glared at one of them and said, "Enough of that," in Yiddish. The child stopped, looked at him, quickly determined Asher held no authority, and, with increased volume, resumed playing. Later, we would be able to find humor in how the storm blew our cart down the block after we'd unloaded it, about the confused way I'd parked in a taxi loading zone, about my nervous, incompetent driving back to Asher's apartment. But, at that moment, tense, rain-soaked, and exhausted, we still had a daybed to finish building and groceries to buy. I flew home the next afternoon. We were running out of time.
We finished the daybed at two that morning, went back to the inn, slept a few hours, then spent the next morning finishing whatever we could. We found a small market and bought groceries. Asher would have to purchase and hang curtains on his own. He planned to go to the Bed, Bath, and Beyond in the Village. He said, "But I think I should go with you to the airport first." And this time, when I got disoriented trying to find the Manhattan Bridge, Asher was in the passenger seat, telling me, turn by turn, how to find my way in a city he was learning, in a life that was becoming wholly his own. This time, the drive between Brooklyn and Newark took forty minutes.
We said good-bye on the shuttle I'd take to the airport terminal and he'd take to connect with transit back into the city. My stop came first. From the platform, I could see him, still on the shuttle. During my visit, he frequently took short breaks from furniture building in order to exchange text messages with new friends. Now, he already had his phone in hand.
I slept most of the return flight. Something had shifted, though I couldn't pinpoint what. Asher would come to visit in December. By then, I would have gotten engaged, moved into my boyfriend's house, disbanded my cooking group, and started reading again. But on the plane back to Seattle, I only remembered something another mother had once told me, after her own child had moved away: "The only thing that makes life as different as when they're born is when they leave." And now I recalled that, during Asher's first year of life, when he was colicky and unable to sleep, days and nights blurred. Then, as now, I needed years before I could discern their structure.
The day after I returned from Brooklyn, the publisher I'd sent my manuscript to, and then had largely forgotten about, accepted my second book. And now, four years after the end of custodial parenthood, I'm trying to relearn how to write. For weeks now, I've tried to reorient myself by writing these words. Getting here took four times longer than it should have.
•••
CORRINA WYCOFF is the author of two books of fiction, the short story collection O Street (OV Books, 2007) and the novel, Damascus House (Spuyten Duyvil Press, 2016). Her fiction and essays have appeared in anthologies, journals, and magazines. She lives in Tacoma, Washington, and teaches English at Pierce College.