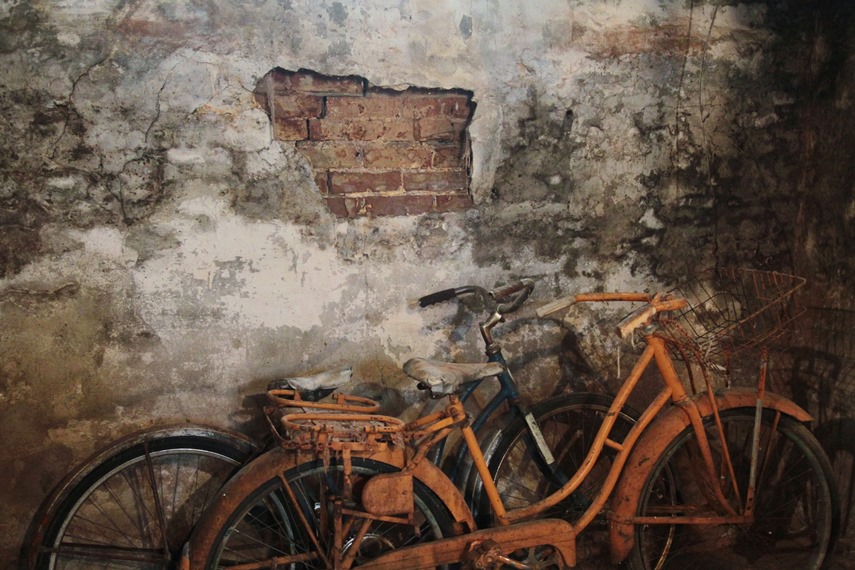 By Powell Berger
"I'll take the big room in the back," Marie announced after our host family waved good-bye, dust trailing their little red Fiat. "That way, you get the room by the front door," she said to me, "so you can protect us."
Marie and I hadn't traveled together for years, and back when we did, it was usually in triple-sheeted luxury hotel rooms at resort destinations where booze and business mixed, and our corporate expense accounts picked up the tab. She'd been that go-to friend for over twenty-five years, even though time and distance and life meant that we sometimes went months—even years, a few times—without talking much. She was the anchor during my divorce over two decades ago, and I can still hear her laughing when I'd call, irate over my estranged husband's latest transgression. "The only thing funny about it is that you're so shocked and angry," she'd say. "Let it go!" She was right, of course, and I'd been reminded of her sage counsel more than once in recent months. My second marriage was crumbling under the weight of deceit and abuse.
Here we were, together again, this time in Solanas, Sardinia—a tiny beach village along the island's southern coast—in a home exchange arranged months earlier. It had been advertised as a "charming, rustic beachhouse"; it bore little resemblance to the luxury hotels of our traveling past, and, as far as we could tell, had no proximity to anything resembling a beach.
Marie had been my go-to source when Sardinia beckoned, not because she'd ever been there or had any special insight, but because her grandparents emigrated from Sicily over a hundred years ago and their Italian roots held firm, even if her passport proclaimed her an American. What is normally considered spaghetti bolognese, she calls macaroni with gravy, and her pasta lexicon is numeric, vaguely explaining those mysterious numbers on pasta boxes. She's the diva of her Italian-loving Manhattan meet-up group, and I'm convinced that should someone cut off her hands, her tongue would fall out as well. For all things Italian, she's my source.
And for that matter, maybe all things too hard to navigate alone.
•••
We'd met back in our DC days, me a young lobbyist for the plastic bag industry, and her, the savvy insider, keeping safe the distilled spirits industry of America. She peddled Boodles gin, Moet champagne, Absolut vodka, and single malt scotch while I tried to convince the nation of plastic's benefits. She drew the crowd, and I rode her coattails.
It was her DC apartment—its tiny galley kitchen, ten-foot ceilings, and Victorian molding—that was my respite during the drama of my first divorce. My then two-year-old, Owen, knew her as "Aunt Marie," our wacky friend with the elegant apartment where we had pajama and movie parties, mostly when Mom seemed sad and needed a friend. It was a regular enough occurrence that Aunt Marie's apartment came to be stocked with Owen's own melamine bowl and plate and cup, and a can of Chef Boyardee, to be opened only in the event of dire emergency. It should be noted that the can was never opened, Marie horrified by its mere presence in her cupboard. She finally tossed it, declaring that no kid she loved would ever eat that junk.
Sometime after my first marriage and two new kids into my second one, she was my pick to stay with my babies when my new husband and I secretly jetted off to Honolulu in search of schools, housing, and jobs, the next step in my plot to move my family from beltway politics to the beaches of Hawaii. She routinely questioned my logic, first on the new husband—whom she called Church Man because she never remembered his name and because we met at church—then on both my moving strategy and my common sense in choosing her to watch my kids. Unmarried, with no kids of her own and no tolerance for the suburbs, she looked bewildered as I handed her my house keys and a map to the preschool and waved goodbye.
She swears I never called to check on them, a point I contest, but maybe it's true. But when I returned two weeks later, she'd become the Peter Pan in my children's magical world. Five-year-old Austin introduced her to Thomas the Tank Engine, and she sat with him, transfixed, convinced that the show's narrator, George Carlin, would surely revert to his stand-up calling of smut, that this children's movie phase was purely hallucinogenic.
Like the actress glumly owning her box-office failures, she reported that two-year-old Emmi couldn't be swayed by Coco Chanel's timeless fashion wisdom about elegance and simplicity, insisting instead on prints plus stripes plus plaid—and the tiara—on a daily basis. "That's okay, I guess," Marie told me. "I did what I could. She's young. There's still time. And thank god the women at the preschool knew she wasn't mine."
•••
Teenagers now, Austin and Emmi had not spent much time with her in the years since—just short visits whenever we passed through New York City, her home since retiring from her high-flying lobbying days—but time and distance hadn't dulled her mystique. To them, Aunt Marie was a living, breathing, designer bottle of pixie dust. Me? I believed that bottle to be filled with truth serum and honesty. Exactly the potions I needed about now.
For our Sardinian adventure, we rendezvoused at the airport in Calgieri and giggled like schoolkids as we engineered the inclusion of my family's meager carry-ons and backpacks in the rental car after stuffing it full with Marie's steamer trunk, designer carry-on, and expensive leather satchel. There was none of the usual whining as Austin and Emmi crammed in on top of their bags, their feet settling for the cracks between the suitcases on the floorboard. Marie drove, while I navigated the nonsensical maze of narrow, twisting, scare-you-breathless roads between the capital city and our Solanas summerhouse.
While our hosts—Italian grandparents straight out of central casting—escorted us through the history and rustic nuances of their family home, I exchanged nervous glances with Austin and Emmi. Their eyes registered our common thought: the queen of luxury—with her designer bags, Chanel sunglasses, and perfectly manicured nails—is actually going to stay here?
The small, dated kitchen with the lean-to roof jutted off the covered porch, separated from the rest of the house as though an after-thought, behind the bougainvillea vines threatening to overtake the eaves. A wobbly table and chairs—circa 1950 with the formica top and metal frames—anchored the room. Rickety cupboards flanked the fireplace where a picture of the Virgin Mary leaned against the mantle, food splatters suggesting she'd enjoyed more than a few meals here.
Across the small porch, past the simple square table and two wooden straight chairs, Grandma guided us through three sparse bedrooms flanking a space that might have once been the entryway, before TVs demanded a room. Grandma pointed to the mismatched, folded sheets on each bed, miming that we could make our own beds as we wanted. She showed us where she'd cleared the closets so we had room for our belongings and shook her head forcefully when pointing to the closed bureau in the small master bedroom. Off limits. We got the translation. Ignoring our nervous glances, Marie smiled and tested her rusty Italian, chatting and miming with Grandma, conveying our understanding and appreciation.
Outside, Grandpa scurried around the property, showing us the fresh herbs in the garden. The basil and rosemary we recognized immediately, but the thick green leaf vines brought us to a bi-lingual, miming quandary. Crowns, the couple mimed, weaving the vines together and placing them on their heads. Plucking the leaves individually, they held them to their nose then pretended to drop them into a pot, their eyes pleading that we figure it out.
"Bay leaves!" Marie suddenly declared much to our collective relief, our American city-dwelling ignorance in full bloom. Our meager herb gardens never included bay leaves, and we reveled in the just-discovered truth that they weren't brought forth as those dry, sad leaves in the McCormick jar.
Pulling a small, distressed plank of wood from his pocket, two old fashioned keys bound to it with baling wire, Grandpa tugged me, leading us to the rusty double-wide chain-link entry gate—the one at the end of the dirt path, off the dirt road that intersected the main road that led back to the house—then handed me the key and motioned that I demonstrate my ability to successfully lock and unlock our fortress. I struggled at first, then again. He demonstrated a second time. Marie giggled quietly over my shoulder; I knew better than to catch her eye. With Grandpa's calloused hand guiding mine, I eventually maneuvered the key into the intricate lock, forced it open, then locked us back in the safety of the compound. Grandpa nodded with satisfaction.
In the kitchen, he pulled the bottle of Mirto from the refrigerator and pointed to the small glasses reserved for the occasion. More miming—berry picking, grinding with a pestle, cooking, stirring, tasting. A Sardinian specialty made from honey and myrtle berries, Mirto liqueur warms from the inside out and sucks the breath away with the first sip. His bottle was hand-labeled "Rosalba Mirto 2012." He'd made it himself, and named it in honor of his wife, Rosalba. We nodded appreciatively and walked them to their car.
As instructed, I took the room by the door to the porch, the door that didn't quite close completely, the door for which the only lock was a padlock. On the outside.
No cell service, no Internet, and definitely no three-sheeted luxury beds. A rusty old gate with an antique key that I'd successfully mastered once in my four attempts. A crossroads village with one restaurant, a couple of markets, and one gas station. A winding, indecipherable maze of switch-back, harrowing roads leading in all directions but with no maps or GPS to explain them. And absolutely no idea what we'd do for the next two weeks. We reached for the Mirto.
•••
For the next fourteen days, over early morning coffee at the simple square table on that front porch, kids still sleeping, a catharsis unfolded. Always the first one up, I cut up some melon, made toast, brewed coffee, and retreated to my writing while the birds awoke and chattered in the surrounding trees. Marie joined me an hour or so later. In our faded pajamas, hair pulled back, no signs of make-up or any trappings of luxury, we sipped our coffee in silence until our brain waves fired with the first jolts of caffeine. Then the stories poured out. Each morning, a ceremonial ritual commenced, an exhalation, a release of the long-held weights that I'd not even acknowledged I'd been carrying.
"I never, ever expected to be twice divorced at fifty."
She nodded and shrugged.
"I loved him, you know."
She pursed her lips, shook her head ever so slightly, and locked her eyes onto mine. I knew the look all too well. It was the same one she gave me whenever I doubted my ability to get a job done. Or when I wore something she didn't approve of, which happened so often that I took to planning my wardrobe around my plans to see her. A look of impatience, hoping I'll eventually catch up and realize the error of my ways.
"I've supported myself and my kids all these years, but can I really do it again? Can I start over? Re-build a career?" Her eyebrows arched, the pshaw audible. "I'm a tired, fifty-year-old, overweight woman with rebuilt boobs cross-stitched by a freeway system of scars and no nipples because I never went back to have that done after the mastectomy. And I don't have a fucking clue what I'm going to do next."
Marie guffawed, the kind of belly laugh that she'd release whenever I complained about my first ex-husband.
"Really?" she said. "We're here, facing all this, and we're talking about your boobs?"
Once again, she was right. I laughed. "At least they're all perky again. I don't have to wear a bra, you know. They stand up all on their own."
Over those mornings, on that porch in the wobbly chairs beneath the bougainvillea vines, along with the smell of fresh toast and a dwindling supply of coffee, I exhaled, letting go the months—years, maybe—of fear and destruction and failures that defined my marriage. That Marie never quite liked Church Man in the first place made it all the more poignant. She never reminded me she hadn't liked him. She just listened.
I held back the lurid details: the slamming me against the walls, the forced sex after my chemo treatments—rape, I'd eventually come to understand—the monies stolen, hidden, and squandered. But in those mornings, those facts didn't matter. I wasn't quite ready to speak those truths out loud, preferring instead to write about them first.
With Marie, it wasn't about the details of what had happened, but rather, what was happening with me. Now. Time and distance would sort out the past, I knew; my challenge now was the journey forward, what happens next, and she was my most trusted guide.
"How could I let my kids down like this? Will Emmi ever know what a healthy relationship looks like? Will Austin?"
"Yes," she reassured me. "They will. Because you will teach them."
"How could I have been so stupid? How did I rationalize it, ignore the obvious, let it keep happening? Am I really one of those women, the he-loves-me-no-matter-how-he-treats-me types?"
"You loved him," she reminded me. "You believed what you wanted to believe." Then she reminded me of her friend, the one whose husband was fired from his seven-figure post, and only after his failed suicide attempt did she know of his years of deceit and embezzlement—and that they were completely broke. "It happens," she reminded me. "And we pick up the pieces and move on."
I talked about my anger—the type that boils up from within and sticks to the tips of my fingers and the back of my tongue, tainting everything that passes through my hands or from my mouth. I talked, and she listened.
"Life never turns out like we think it will," she said. "Who'd have thought I'd end up single, facing retirement in a 600-squarefoot mid-town apartment and loving it?" She told stories of her childhood, living in a walk-up apartment on East 5th, between Second and Bowery, raised by doting parents whose factory on Canal Street in Chinatown made Christmas stockings and aprons and hats, and doll dresses in the off season. "I remember we were the only ones of all my friends to have a shower and a sink in our bathroom," she recalled, smiling. The teenager who always wore her best dress to visit the neighbors, apparently a fashionista even in the 'hood. The young lady who got a secretarial job and climbed the corporate ladder to eventually be the legislative voice of a multi-million dollar company. She'd defied tradition, expectation. And none of it had come easy.
"Remember your treks out to Staten Island?" I reminded her, giggling. Every weekend—even into her fifties—she'd retrieve her car from the garage to visit her dozens of cousins and ailing aunts, all of whom sent her home with fresh tomatoes and basil and pastas, because "you just can't get good food in the city."
"You and the kids really have to come to New York at Christmas," she insisted. "Come to my party. Matt and Jake put up the ten-foot tree and do all the cooking," she explained, "and I only invite people I really, really like."  Her family—friends from a rich career and special people collected along the way—all gathered around for the holidays, and Marie holding court. I couldn't think of a better way to celebrate the season.
I listened to her stories of dinner and theatre dates with girlfriends she's known for decades, and stories of the men she dates occasionally—nothing serious, just company, she assured me. I admired her strength—the same strength and charisma that drew me to her so many, many years ago.  "You're a great mom," she said, abruptly changing the subject. "You're going to be fine." Her sudden turn shocked me. In that moment, somewhat surprised, I realized that she admired me, too.
Without the clutter of technology, under the birds' chirping and flapping, in the company of that old friend rediscovered again, I found the acceptance to own my past. And the realization, as she put it, to rebuild and move on.
Eventually our mornings turned to afternoons, and breakfast gave way to a drive into Villisimius, the resort town seven kilometers away, where the waiters at La Lanterna held our favorite table and knew our favorite dishes. We wandered in and out of every tourist shop, jewelry store, and occasional boutique and made a point to try every gelato joint in town.
We managed to conquer the switchback roads, and even went exploring beyond Villisimius a few times, always getting lost, and always managing to eventually wind back to the summer house, our only landmark the blooming cactus that hung so low over the dirt road that I ducked every time we drove under it. I handed off my gate duties to Austin, who turned out to be far more talented at ancient key mastery than me.
Sunset always brought us home again, to those wobbly chairs and creaky table, where re-matches of "Name that Tune" would commence. The kids had thought it lame when Marie suggested it that first night after dinner, in those hours when TV and the web might otherwise fill the void. But when she cranked up her iPhone to sounds from Flo Rida and Emeli Sande in her first few challenges, they were hooked. It became their obsession, and over the two weeks, and countless challenges, Marie never missed a beat.
I wandered through the summerhouse garden, hanging our laundry on the clothesline strung between the trees, just past the rope swing where Emmi and Austin wiled away the early evenings. I marveled at the bay leaves, their strong vines weaving a maze amidst their small plot. They aren't dried and wrinkly at all. Sometimes discovery is gradual. Sometimes, it comes all at once. No, my marriage couldn't be saved, I realized. And what's more, it shouldn't be.
Our two weeks coming to a close, we reluctantly packed our things and headed to bed on our last night there. I drafted an email to Marie, to be sent once we finally had internet again, attaching a copy of the essay I'd been writing—the long, rambling, lurid story of my marriage, its collapse, and the truths too painful to share on that porch. "Here's the entire story, including the stuff I couldn't say on that porch," I wrote. "Thanks for listening."
Just then, Austin whispered, "Holy shit!" loudly in my direction as he looked out the window into our courtyard, just beyond the table where we sat every morning. "Come look at this, Mom!"
Emmi and I rushed to his side, adjusting our eyes to the dark garden, lit only by a glimmer of moonlight through the olive trees. Slinking along the wall of the shed, silently gliding towards the porch, it was unmistakable. The moonlight cast an eerie reflection off its beady eyes—a rat, far bigger and fatter than any housecat we knew, and it was headed straight for the house.
"Don't tell Aunt Marie!" Austin and Emmi whispered in unison.
"No shit," I said in return.
I slammed shut the door next to my room—the front door, the one onto the porch, the one without a lock—and slid a chair in front of it for extra measure. She'd put me in that room for protection. It was the least I could do.
•••
POWELL BERGER is a freelance writer living in Honolulu with her two teenagers and two kittens, where she revels in their havoc and joy in equal measures. She is currently plotting to split her time between Honolulu and her other favorite city, Paris, where she spends every July as a Program Fellow at the Paris American Academy's Creative Writing Workshop. Besides Full Grown People, for which this is her second essay, her work has appeared in various print and online publications, including Travelati, Hawaii Business, and Inside Out Hawaii. She hasn't made it yet, but she still plans to eventually show up at Marie's annual Christmas party. Her writing world is housed at www.powellberger.com.