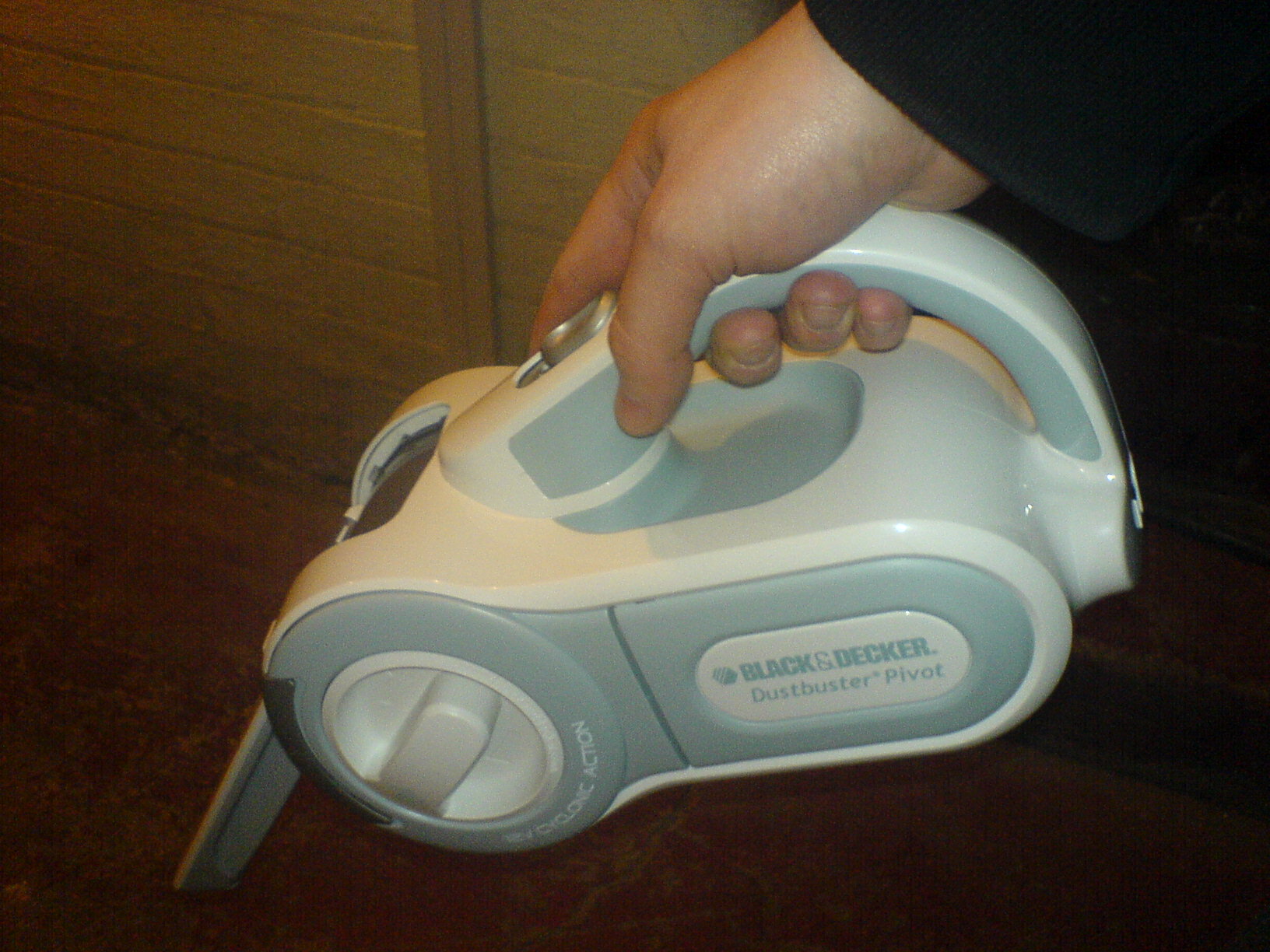 By Brooke Champagne
My mother twice bought the pitch of a salesman at the door, and both were, in one way or another, a response to one or another of her failed marriages.
The first sell came in 1992 from David Vitter, chinless Republican candidate for the Louisiana House of Representatives from the 81st district, running on the amorphous platform of family values. He was conducting, in his words, a traditional, old-school campaign, knocking on constituents' doors and actually listening to their needs and concerns about the future. My mother invited him into our dustbusted living room. My father had been a radical Vietnam/Watergate leftist, lying across the busiest intersection of Robert E. Lee Boulevard in New Orleans to protest the draft, kicking a hole into the TV during Nixon's "I'm not a crook" telecast. After a few of years of marriage, his behaviors lost whatever charm they once possessed. When Vitter arrived at our door, my parents had been divorced for eight years. For my father, politics was sacrosanct, and supporting a Republican was anathema to everything he believed to be good and true. It was perhaps on this ground alone Mom promised Vitter that he could count on her vote.
Soon afterward, another salesman introduced us to the exorbitant Tri-Star vacuum cleaner, a silver, futuristic-looking contraption with a long hose separating the motor from the power brush. The Tri-Star promised everything: healthier environment, enhanced home appearance, peace of mind. My mother was finalizing her second divorce—she required some sense of "here is something I will never have to think about again." The Tri-Star, purchased around the time Vitter was sworn into the state legislature, has lived through more than a dozen political cycles, including the public admission by Vitter in 2007 that he'd habitually solicited DC prostitutes over the years. His wife Wendy joined him in solidarity at the press conference. Hands clasped at her front, she wore a form-fitting leopard print dress while her husband repeatedly asked her, his constituents, and God for their collective forgiveness. She said nothing. They remain married today.
My mother passed that Tri-Star vacuum cleaner on to me just after my wedding. Nearly ten years later I remain married to my husband, breaking my mother's record for her first two marriages.
•••
Dusting my writing desk I recall a foremost precept of cleaning: dust accumulates most quickly in unused spaces. Thus, I am not writing enough. If I wrote more, the dust might more readily fall upon the nightstand, on the oscillating fan next to it, on the sewing machine in the corner of my office which I never use because, as my mother has joked more than once, women shouldn't learn to sew—they should divorce if it came to that.
Dusting is the minutiae of moving objects around. So is marriage and, sometimes, so is divorce.
I bump my silver philodendron too forcefully with my dust rag—its soil dumps neatly into the small cubic space between my writing desk and bookshelf. The Tri-Star's hose attachment is broken, and I can't sweep away the wet soil because it will grind into the carpet. If only an appliance existed, I consider, that will pick up just this dirt, in just this small space.
•••
I have forgotten all about the Dustbuster. For children of the eighties, dustbusting was an invigorating verb. After dinner it was my job to dustbust the crumbs from the table and sometimes, gleefully, from my little sisters' shirtfronts. Through easy tasks like dustbusting we learned the virtues of responsibility and cleanliness, in the Mc sort of way. My eighties were filled with Mc-food (frozen or fast), Mc-parents (stepfathers), and Mc-neighborhoods (subdivisions built up in a few weeks with the same three house plans multiplied endlessly down the block). Mcs were shoddy replacements for the real thing.
One summer afternoon I attempted a cleaning shortcut: rather than vacuuming the living room, as I'd been tasked, I resolved to dustbust every inch of its twist pile carpet in long, straight lines. But the Dustbuster clogged on my third row, and it died on the fourth. To clean it out, I detached the nozzle from the handle and spilled crumbs everywhere, for which I reluctantly lugged out the Tri-Star.
•••
The Dustbuster was invented in 1979, the same year as the McDonald's Happy Meal, and a year after that, both the Chicken McNugget and I were born. Carroll Gantz, Black & Decker's Industrial Design manager, marketed the Dustbuster as a portable suction device for picking up light dirt and debris. But that was the thing: it didn't do much else. It sucked the surface grime but couldn't penetrate to the root. In the eighties I knew, McDonald's Mc-fed and the Dustbuster Mc-cleaned.
•••
The original Dustbuster was a cream-colored plastic duckbill with a single brown button to rev its tiny motor. To charge one meant matching it up to its opposite-shaped wall holder. It looked like two hands clasping together. Like a prayer.
Our Dustbuster hung next to my mother's wood carving of the Serenity Prayer, which seemed the most permanent thing in our house by virtue of its basically being a letter to God—God, grant me the serenity to accept what I cannot change—though I never heard Mom ask God to grant her a thing. It might have been during one of her fights with my stepfather when the prayer was knocked from the wall. Once rehung, the carving remained askew for a long time, a rearrangement I thought appropriate.
•••
Were my mother's remarriages what Samuel Johnson called "the triumph of hope over experience"? Or, ultimately, the failure of assignation? Promises weren't just made at the end of a church aisle, I intuited. A couple's foundation wasn't so simple as "man and wife," and the sickness and health and love and death weren't even the half of it.
Often before those bigger tests play out, a couple lives together, slowly ages together, moves around in lockstep or with four left feet, depending on the day. And rather than acceding to the unequal dynamic of our earlier parent-child relationships, in which the parent figure dictates appropriate rules and chores for the child, a married couple makes up the rules together.
Both my stepfathers were natural tinkerers, so they'd be our home's occasional handymen—cleaning gutters, repairing the toaster, performing tasks inconceivable for my idealist father who was versed in the oeuvre of Graham Greene and themes in Don Quixote but couldn't hang a picture frame. And my mother, in her postfeminist sensibility that women could do anything and have it all (and much more secure in that ideal than most women I know today) reflexively took up the mantle of "You do the tinkering, and I'll take care of everything else! I'll dust and cook and clean and work full time and do pretty much all the kid stuff and still love you unconditionally, because I'm that strong and powerful!" In other words, rather than balancing their duties or at least having a conversation about them which might allow for future fluidity, it was: mother = everything, Mcfather = whatever he's in the mood for.
At some point, probably when the burden of her constant doing began outweighing her husband's facility with a screwdriver, or how hilarious he could be when drunk or stoned, my mother's purview on their respective roles and personas sharpened considerably. Both my Mc-parents, for example, were—in the beginning—described by my mother as real men's men: handy, diffident, fun. After a few years they were lazy, selfish drunks, that last word always like an uppercut—there was nothing more to say or think about who they were. That lovely marriage pronoun, the we, was gone. Each spoken I became a towering, dauntless god, while the you was a stub of the toe, a malignant growth, something grossly foreign and unrecognizable. Marriage became a war with clearly-defined sides, and as with most warring parties, both sides saw themselves within their struggle as the victims and heroes.
In my adolescence, when my mother was gradually falling out of sync in her second marriage, she became enamored with an epigram of unknown origin, pithy and reductive enough to sound to my young ears like a frightening admonition regarding my future: "Men may work from sun to sun, but women's work is never done." The couplet became such a popular refrain for her that, in seeming solidarity, my second Mcfather occasionally parroted it as well, letting us all know he too was aware of its truth: men, in effect, have a singular job in a marriage, while women own all of them. To me the phrase sounded dirty coming from him, a prolix substitute to the beautiful brevity of "thank you," or "I'm grateful." But it was even more cringeworthy coming from her, equitable to the "it is what it is" shrug of the shoulders. Why did she accept a position within her own home that drove her crazy? Was it the married woman's fate to passive-aggressively, ineffectually complain? Was every marriage doomed to stasis until at some point both partners tacitly agreed to stop working on it altogether?
Here's how, in each of my mother's marriages, the stopping started: more and more frequently after one of their fights in which words were no longer sufficient to communicate their disgust—his hands on her throat, her nails in his cheeks, each sound and scene a rolling pin across my insides—the most interminable sound became their protracted silence. Weeks without acknowledgement of each other, ghost parents floating around the house. The standard emotional cleanup following a fight—the I'm sorry, honeys and never agains—regressed to a spit-and-shine job at best, hardly even Dustbuster-worthy. Eventually, every ignored resentment piled up too high and deep for anyone to tackle. Betrayal and fear shoved into every closet, mutual antipathy ground down into every thread of our twist pile carpet. I wanted to dustbust the marriage detritus, dustbust her justifications, but I'd already learned: the Dustbuster can only hold so much.
•••
In my marriage I've broken all the rules I made for my future self as a child: I'll never yell, he'll never drink too much, I'll never swear or shove, we'll love just enough to forever keep us in an orderly, perfect alignment. I didn't know then that getting dirty isn't a choice—it's inevitable.
In my marriage, we fight. In our fights my past is often transmogrified. We get mad, we ruin dinner, I break a remote, then break another, he slams a door, punches the wall, I throw myself off the porch and scream into the grass. Yet the difference is the aftermath: that incontrovertible grime it leaves behind that we willfully, immediately recognize, and labor at once to scrub away. Rather than allowing our bitterness to slowly boil then hopefully evaporate with time, mirroring the paradigm of fights I grew up on, we call out the other's mess when we see it. With every why and what for and please can we not anymore and what did you mean, we wipe down the obvious films of dust and move on to where decay resides: those concealed psychic baseboards and window panes, the forgotten space behind the toilet. We take on this grit together to see clearly where it is we live, and with whom. It is not in a carving on the wall but in this work where we find our prayers, and help each other answer them.
•••
Still, despite these ideals, in my marriage I've spent more time than I'd like to admit parsing out whose mess is whose. Sure, I'm happy to dust my desk in my office, but when my husband announces our dining room table looks dusty, I ask "Does it?," give him a look, and wait for him to clean it. The longer I'm married, though, the more I wonder who is delineating the his role and the hers. It's difficult to unlearn what our childhoods have encoded, what we never believed but enacted for the families who would accept nothing else, because we were playing the parts they'd prescribed.
According to my mother, I should grow up to never take shit from men, let them clean up their own messes. According to my Mc-fathers, I should become the kind of woman who doesn't give men so much shit. It's through the continual polishing of my relationship that I've been able to gradually reject that either/or dichotomy. The more time we spend dusting ourselves off after a fight, or spot-cleaning our marriage when we're not, the more the influence of Mc-everythings from the past starts to subside.
Because there is no precedent for the scene in which I often find myself: my husband in our kitchen, mixing sauces for Chicken Mario or a red pepper and tofu stir-fry, working purposefully toward each meal that feeds us fully. We never eat from the paper sacks of my youth. For an aesthetic sense of parallelism, and as a gesture of gratitude, I make sure we eat his lovely dinners on my shiny tables. No: our dinners, our tables.
When the Smithsonian acquired an original model of the Dustbuster in 1995, the year my mother began her third marriage, 100 million had been sold. McDonald's, meanwhile, heavily marketed the Arch Deluxe sandwich in an effort to cultivate a more adult image. Only, no one bought it. It was a standard burger with all the regular fixings, but with the lagniappe of sweet Spanish onions and, as noted in one advertisement, "a secret sauce for grown-ups." The problem, it seemed, was the tremendous effort and dollars spent in the narrow hope of catering solely to adults. Millions of sesame seeds atop their potato flour buns went uneaten, went unspilled upon the twist-pile carpeted floors of America, went un-dustbusted. McDonald's experiment with maturity resulted in one of the most expensive flops in the history of branding.
•••
Black and Decker now sells nine popular models of the personal vacuum that pivot easily to pick up larger debris, use lithium-ion technology powered by cyclonic action, offering a more hygienic cleanup with less clogging than ever before. The world apparently still needs the Dustbuster, but I don't. When I spill plant soil on the carpet I vow to get the old Tri-Star repaired. I'll accept no substitutes if we're going to go all the way, because a real partnership calls for a real vacuum.
•••
BROOKE CHAMPAGNE was born and raised in New Orleans, Louisiana, and now writes and teaches in Tuscaloosa, Alabama. Her work appears in Los Angeles Review, New Ohio Review, Louisiana Literature, and Bending Genre online, among other journals. She is at work on her first collection of personal essays.