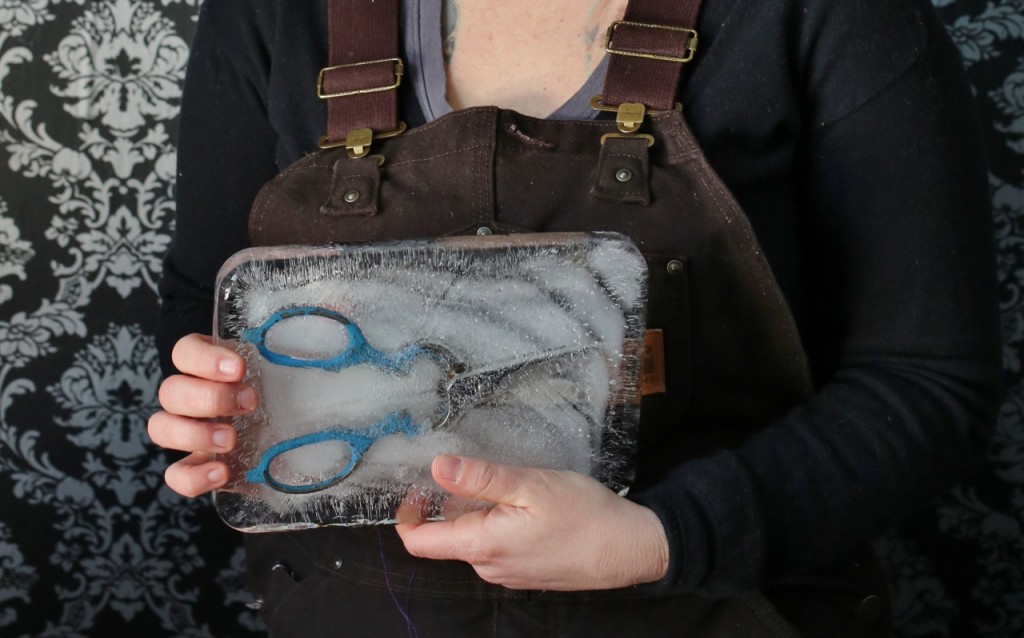 By Amy E. Robillard
Because they could not get everything they needed to get laparoscopically, they cut into him. They cut through his fatty tissue and his muscle to get into his abdomen where his gangrenous gallbladder was swollen and bloody and actively disintegrating. When Dr. Robinson tried to remove it, he told us, it fell apart in his hands. When he tried to clip off the bile ducts afterward, Steve's abdomen was so swollen and bloody that the clips would not hold. They fell right off. Dr. Robinson used a sealant called Tisseal, and as he told us this, he swooped his hand down and back to mimic the motion one imagines using to seal off a hole. All I could picture was a driveway.
Steve had been wheeled into the operating room at one-thirty that afternoon. I had been expecting surgery to last about an hour and a half. While Dr. Robinson was pretty sure from the exam that Steve's gallbladder was infected, he still believed he could remove it laparoscopically. After I kissed Steve goodbye, I went over to the surgery waiting area and introduced myself to the two volunteers who answer the phones. Steve's name wasn't on their official list of surgeries for the day, so they wrote his name at the bottom of the page and noted that I was here. "I'm just gonna run out and get something to eat. I'll be back soon," I told them.
I had imagined, as late as that very morning, that I'd be able to teach my classes that day, the day of Steve's surgery. The hospital was so close to the university, and we didn't know what time Steve's surgery was going to be, so I'd just run back and forth, keeping my phone on me in case I was needed.
Walking the dogs that morning before we left, it hit me that my husband was having surgery and I was his next of kin and if I wasn't there waiting for him, nobody would be. What kind of wife was I? Of course I wouldn't be teaching that day! Later, when I told Steve's stepmom Janet this, she laughed. "You've never had to do this before, have you?" I said I hadn't. "It's a steep learning curve, that's for sure," she said.
•••
I grew up in an abusive home, and the further I get from that environment, the more clearly I can identify the characteristics of it that have had a lasting effect on the person I have become. Two things stand out. The first is that I have an overabundance of empathy. This comes, I've recently figured out, as a result of being told again and again that it was in my best interest to identify with my abuser.
"Stay away from her," my mother told me.
By telling me this, my mother was also telling me that the perspective on the world that mattered was my sister's, not mine, that the person responsible for the abuse was me, not my sister, and that the way to remain safe was to take on the perspective of the other. Your perspective—that your sister is hitting you—is not the one that matters. The one that matters is your sister's. Appease her.
One result of this overabundance of empathy is that, for a long time, I had trouble with friendships. Simply put, I gave too much and didn't expect much in return. I took on others' perspectives on the world and negated my own. I gave and gave and gave until, as happens in every life, a point came when I needed love and care and found that the friends to whom I had given so much were unable to reciprocate. This prompted essential self-care work, including reassessments of more than one friendship.
The second effect of growing up in an abusive environment is that I, as all children do, built my understanding of myself based on the narratives I had available to me, and those narratives I had available were that I was nothing, a nobody, destined to amount to nothing because I was no good, not worthy, stupid, fat, and ugly.
Because of this, I developed an early habit of calculating my chances at things as basically zero, not—as popular reasoning might have it—so that others might encourage me, but because it is what I believed deep in my body was true about me. This means that anything good that happened to me—that happens to me—is essentially icing. This has always gotten me out of existential dramas. I was persuaded early that I wasn't meant to be here, so I don't necessarily have a need to make some big meaning of my entire life, to feel that I was somehow meant to be here or that I have a purpose, to feel like I'm here to do something good. Anything I do that is good is better than the nothing I was supposed to have done. Some may read this and characterize me as a pessimist, but I think that those who have been abused could perhaps help me articulate why that's not quite the case. It's not that I expect the worst. Rather, I expect nothing.
One effect of this is the ingrained habit of imagining and preparing for my death. My oldest friend Hillary and I have been promising each other since we were kids that, should the other one become incapacitated in any way, the other would swoop in and take care of things. Neither of us is afraid to die. We grew up thinking we wouldn't make it much past twenty-seven.
•••
Muscles provide strength. We get the word muscle from the Latin musculus meaning, literally, "little mouse." Our strength comes from what we might otherwise perceive as small and insignificant.
•••
When I return to the surgery waiting area at two-thirty, I see that a few people are gone, but there are still probably ten families waiting for news on their loved ones. The electronic board tells me that Steve's surgery officially started at 1:59. I settle in to a chair, take out my laptop, and begin working on revising the calendar for my rhetoric course. At about three-thirty, one of the volunteers comes to tell me I have a phone call. Steve's nurse, Brian, tells me that things are going well and they're hoping to be able to finish the surgery laparoscopically, but they may have to make an incision if they can't get it all. This will mean three to five days in the hospital. "We should be done in about an hour," Brian says. I ask if this would be a good time for me to run home and take care of the dogs. He asks how close I live and I tell him I can be back in an hour. He says yes, this would be the time to do that.
I tell the volunteers that I'm running home and I'll be back in about an hour. They're both elderly women dressed in baby pink hospital jackets. One tells me that they leave at four, so when I get back, they won't be here. "You'll have to answer the phone yourself."
Sure enough, when I return a little more than an hour later, the surgery waiting area is nearly desolate. A man and I are the only two still waiting. At 4:45 the phone rings. I look around, as though somebody else is going to answer it. "Surgery waiting area," I say as I pick up the phone. It's Brian calling to tell me that they've had to cut Steve open and they'll be working on him for about another hour. "Shit," I say. "But he's okay?" Yes, he assures me. He's okay.
I text the friends who are waiting to hear how Steve is doing. The news that they've had to cut him open isn't good, as it suggests things were more serious than even the doctor had anticipated.
This is not the first time I've imagined what my life would be like as a widow. Mostly when I imagine this, I think about how others will respond because I know I have the constitution to be okay. I'm self-sufficient. Icing, remember?
The hour passes without a phone call. It must be because they're finishing up and they want to call me when they're finished.
Meanwhile, two friends come to visit for a little while and distract me with hilarious stories about their early vacations as a family. I can't help but envy them their stories. But they have to leave before too long.
The phone rings. I answer it, "Last one standing."
"Amy?"
"Yep."
"It's Brian. I know your voice by now. We're still working. We'll need about another hour."
Deep sigh. "Okay. Everything okay?"
"Yeah, he's okay. Things were messy."
I sit back down in the waiting area. It's seven. He's been in surgery for five hours. The lights go out in the waiting area.
I'm sitting alone in the waiting area. In the dark. My husband has been in surgery for five hours. I'm beginning to get scared.
Instead I get angry. I think about all the love and care and empathy I've given over the years since I arrived in Illinois. So much love and empathy. And none of it is coming back to me right now as my husband is lying cut open on an operating table and I'm all alone.
Later, with a clearer head, I'll think back on this moment and say to myself, well, what could you expect? Your friends didn't know you were sitting there alone in the dark.
And the answer, of course, was nothing. Of course I could expect nothing.
•••
As he recovers, Steve needs to be reminded every so often that Dr. Robinson cut through his abdominal muscles, so things he used to take for granted are going to be hard for a while. The first time he sneezed was particularly painful. He's sneezed a total of five times since the surgery.
Cutting through muscles is, I imagine, a gruesome task. As they heal, muscles that have been severed settle differently.
As I walked the dogs the morning before Steve's surgery, it hit me that I could no longer rely on my own habits of thought, on my own muscle memory, to get me through this kind of situation. I couldn't just maintain my identity as some kind of teacher hero who manages to teach her classes even while her husband is under the knife. I had to accept that, despite the earliest and most profound lessons of my life, I am important to people and that this recognition brings with it responsibilities that I cannot simply brush off with claims that my students need me. Until Steve's surgery, when I was the one person in the world responsible for the well-being of another human being, I had never had to puncture, let alone cut, that muscle memory.
I don't really trust myself to be that person for Steve or for anyone, really. I have never wanted to be the one solely responsible for anything, but especially another person's life.
My muscle memory has been cut, just this once. It may not be enough, but it's a start. The cut will send the little mouse scurrying just a bit, into cracks and crevices of my constitution that I don't even know are there, settling perhaps the tiniest bit off-kilter, surprising even me.
Things I've taken for granted may be harder for a while.
•••
AMY E. ROBILLARD is a writer and a teacher of writing at Illinois State University. She's a regular contributor to Full Grown People. She and her husband Steve are the guardians of two very special mutts, one named Wrigley Field, and one named Essay. They all love the Cubs.