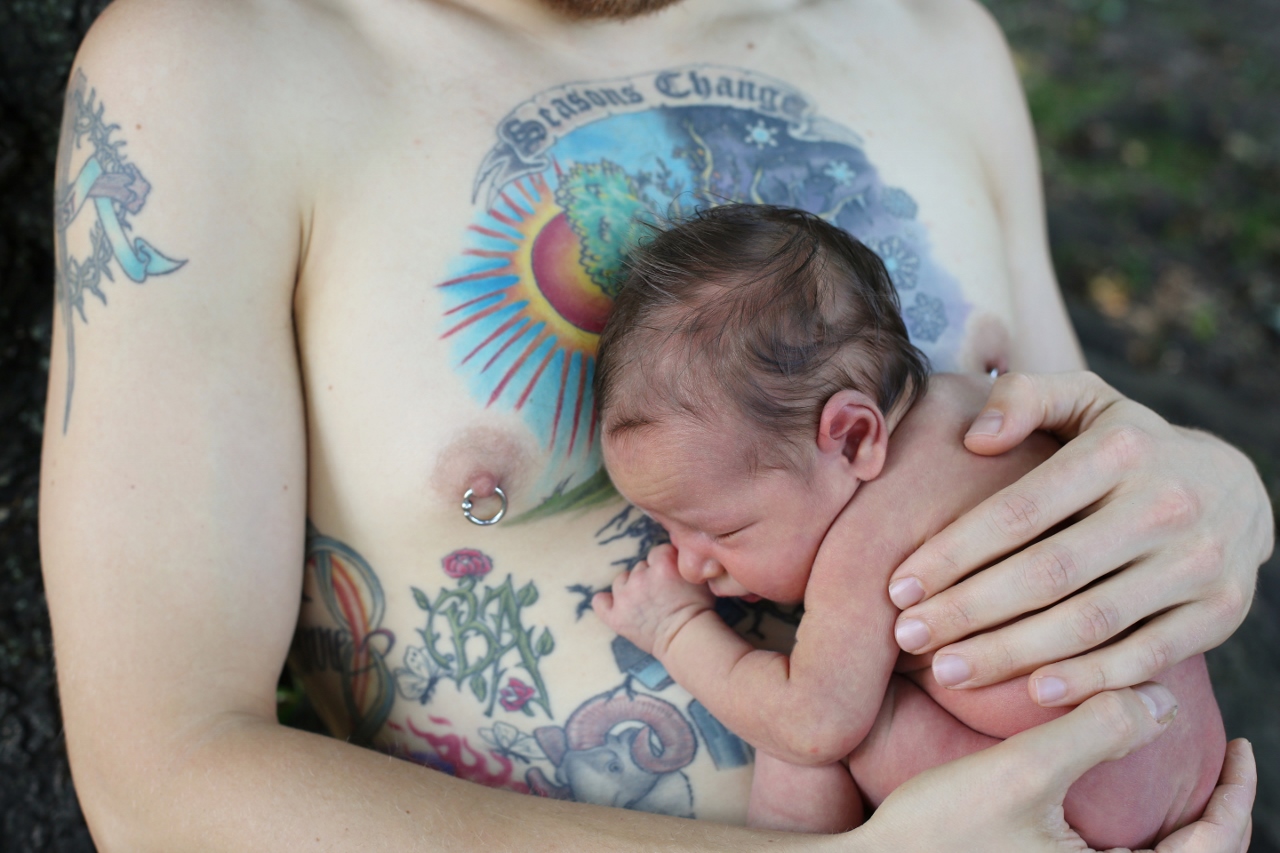 By Brian Goedde
"How big should I make it?" I asked my tattoo artist, a fashionably underfed hipster in a tiny, spotless shop on the Lower East Side of Manhattan. He was probably ten years younger than he looked—the image I was hoping for with my first tattoo. I had just graduated from college and was living on Avenue C in the late '90s. I was still far too baby-faced to look the part I thought I was playing. I wanted to look like I had experience, like I had a story.
He said, "Big enough so the people at the other end of the bar can see it when you lift up your shirt to show it off."
It was good advice for a twenty-two-year-old. Now, almost two decades later, I'm more apt to wonder how it looks as I wade into the YMCA family pool, following my two-year-old daughter and my five-year-old son, where I'm less inclined to show off my body than submerge it from sight. Like most of the fathers in my company, my body is succumbing to the undertow of the parenting years: a slack at the chest, a collection at the waistline—story that I'd rather lose. My tattoos now show not the look of experience, but of inexperience, of youth.
I've gotten three tattoos while being only a son, and one as both a son and a father. As a son—which is to say, as someone who has tumbled into the world and seeks his place in it—I still like my tattoos. Getting them has felt as essential as the body they're inked on. My tattoos have stamped something permanent onto my life, which has otherwise confirmed itself to be uncontrollable—even unknowable. It's an exhilarating power, and, I believe, the primary allure of getting tattoos. In the face of so much mystery I can say, with this ink on this skin, I know this much—I am this much—at least.
The image itself doesn't so much matter, which is why so many tattoos appear to be so meaningless. I have a heart with an arrow through it on my arm, and a star on my shoulder: why do I have them, instead of not have them? It is assertion, and assertion alone, in response to some other questions I often ask: why do I have to be so white? Why male? Why such average height, why this mop of hair? I don't know, but I can say that one day, at the foot of Seattle's Capitol Hill, a young man wore a surgeon's face mask and, holding my arm, inked perfectly straight lines and acute angles on my shoulder. The tattoo is both the most meaningless and precise thing about me.
Incidentally, it also gets the most attention at the YMCA from the swim-diaper set. Every so often I feel a poke on my shoulder and turn to find a toddler saying, "Star!"
"That's right," I say, and smile. The parent glides over to fetch his or her child, and gives a smile to say "sorry." I smile back to say "no problem."
We're all smiles, and mine is the most awkward. When I became a father I felt as though I had re-entered the world—tumbling still, and now holding a newborn. Even now, I don't know my place in the world, but I know my purpose—fatherhood—and to this purpose, my tattoos are all dreadfully embarrassing. I'm embarrassed for all of us, bobbing into the YMCA family pool with our marks of youthful inexperience, images that look more to the taste of our kids than to the parents we've become: dragons, fire, dice, swirly lettering, abstractions in black, and yes, stars. Why have them instead of not have them indeed. Now I often think of the question my own dad asked me when I pulled up my shirt to show him my first tattoo.
"It comes off?" he said.
"No, Dad, it's a tattoo."
"But it's not real."
"…"
"Well…" My stepmom searched for her words. "You're… expressing yourself."
My dad said to himself, aloud, "And on Father's Day."
So it was. We had all met at the beach for a June family reunion. Instead of letting people notice and say something (or more awkwardly for me, not say something), I thought I'd just make the announcement about my new tattoo.
•••
My parents have been less than enthusiastic about my tattoos, which I can understand, now as a parent myself. A decision like this must look like guaranteed regret. When I showed them my fourth and final tattoo, the only one I have gotten as a father, my stepmom said, "Well, I… I liked your arm the way it was."
"An illustrated man," my dad declared, again keeping his distance from voicing an opinion.
Oh, well. You learn to live without approval from your parents. I had hoped that this was a tattoo they might have liked, however, as it involves our family. My sister, an artist, drew it as part of the wedding invitations she made for my wife and me. There is a single-story pagoda-like structure in black, at the edge of water, whose currents are shown by dark grey swirls. Above it, in teal, are tiny check marks, Xs, circles, diamonds, and a crescent moon all appearing to be in motion—a kind of swirling cosmos that corresponds to the water below it. In this swirl there are three small rowboats in black, their oars set in their locks but hanging slack. One rowboat is gliding toward the house, one is at the house, one is headed upward and away, at the edge of the cosmos.
The pagoda to me is home, and the boats show the three stages of a cycle that was apparent to me on our wedding day, held at the farmhouse where my wife grew up, and continues to be apparent as I have become a father: it's a return home to leave it again, and it's a departure from home, even as far as the edge of the universe, that foretells a return.
"You can never go home again"—yes, but also true is that I never really left, not in any permanent sense. In raising children, I constantly reflect on my own childhood. In being a parent, I constantly recall my own. Having my own kids has also brought me back to the family I came from because there's a new relationship I'm now obliged to foster—that of the grandparent and grandchild. My parents want to feel like they "know" my kids, and, being grandparents who spoil them rotten—by which I mean give them junky little plastic toys, dubious gummy treats, and unrestrained joy and affection—our kids want to know more of them.
In our wedding ceremony, the minister gave a "blessing to the parents" in which she said, "They are of you, and now they move beyond you." What I have learned in the years since is that "moving beyond" doesn't mean I'm no longer "of." In fact, being "of" my parents has only intensified in having supposedly "moved beyond" in marriage and parenthood. My past, my upbringing, my youth, my sense of inexperience has all become more vibrant in adulthood, in contrast to the tattoos that represent them, whose colors have begun to fade.
•••
"I want a tattoo," my son says, looking at the one my sister drew. A part of me is happy to hear it. I've learned to live without the approval of my parents, at least as it pertains to my appearance, but now I'm struck by how much I want the approval of my kids. Another part of me, the protective father, is, well … concerned. I don't want my son to do something he regrets.
"Okay," I say, "but not until you're a grown-up." He'll be of me and not beyond me for many years to come. "You can get a temporary tattoo. One that comes off."
My two-year-old daughter hasn't said much, but in the YMCA family locker room recently, as I wiggled her into her swimsuit, she touched my chest and said, "Daddy, you have a name."
I smiled. On my left pectoral muscle, just above the heart, where a name tag is sewn on a shirt, in Times New Roman typeface, black, all lower-case, about 40-point font, is my first tattoo, a word that described me then and, sometimes in spite of my most sincere wishes, describes me now: tender.
As a young man on Avenue C I wanted something to show great virtue and great fault, something that shows conflict, and the conflict I have now, eighteen years later, is to determine whether it was an act of virtue or fault to get it. I was—and am—sympathetic, gentle, impressionable: tenderhearted. I also was and am perpetually unprepared for the world, especially in parenthood, as each new phase highlights my embarrassing inexperience with it. I'm not so baby-faced anymore, but I'm as tender-footed as my kids are. As a twenty-two-year-old I was attracted to the irony—what kind of man has "tender" tattooed on his chest? I knew it would be a provocation to my future self, and, duly, as a father I am provoked.
Does all this spell "regret"? Yes, and no, and not simply either. I would never get this tattoo now; my taste for this kind of daring irony has since far softened. Yet, it suits me perfectly, then as now, and I'm glad my former self had the temerity to mark me. As a friend of mine said, "People regret tattoos because they once thought they looked cool but no longer do. This is a tattoo you know you should regret. So you probably won't."
"Yes, I do have a name," I said to my daughter, in that chirpy parenting tone, proud of a toddler's perception. But I said it under my breath, as I hoped not to explain it further, not while I fussed with the diaper, socks, pants, shoes, shirts, towels, goggles, lock, and the bags, and not with all these other people around.
•••
BRIAN GOEDDE teaches writing and literature at the Community College of Philadelphia.