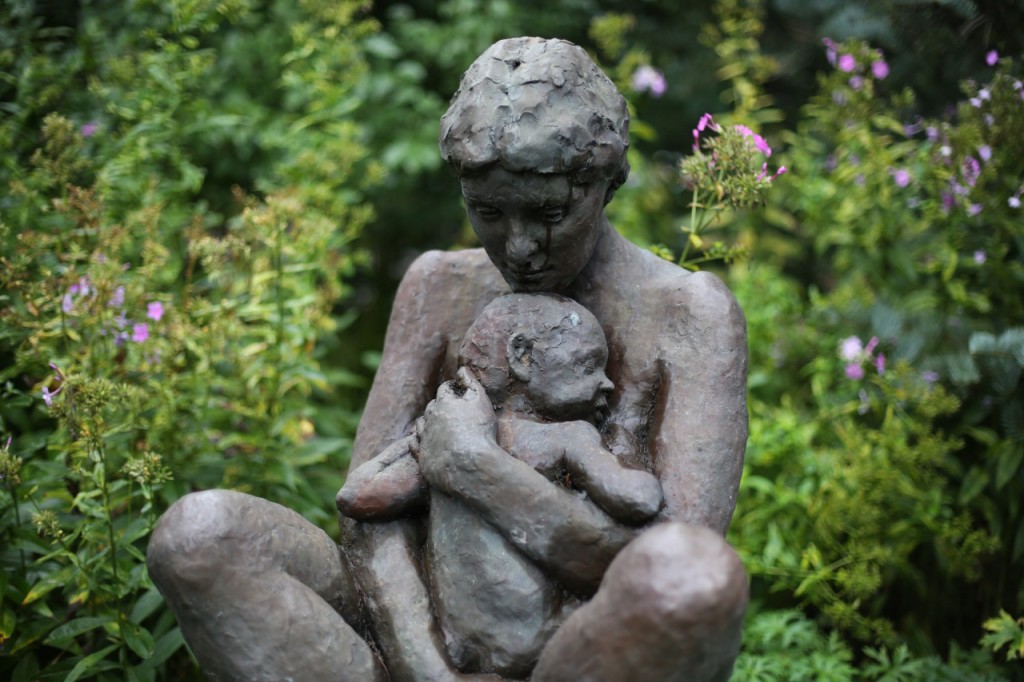 By Kristin Wagner
February 2006
I'm so sleepy, staring out the bus window. It must be near midnight by now, and half the kids have curled up with their pillows and blankets, headphones and cellphones. I'm getting rocked fairly roughly to sleep. I take a moment to search through my purse for a pill, two really, first my birth control pill and then a cranberry supplement. I swig down a gulp of bottled water for the first, and, for the first time, notice that Mindy is sleepily regarding me from across the aisle. She very quietly asks me about the second pill.
"UTI?"
I bristle a little that I have so little privacy here, that these teenagers get to know so much about my life that I didn't mean for them to. She doesn't mean any harm asking after me, though, and is trying to do so quietly. I reply quietly back, "Well, maybe. I do seem to be having some, um, trouble in that department."
Mindy nods and gently leans her head on the back of the seat in front of her. "My mom uses those—they seem to help," she offers softly. "Sorry you're having trouble."
"Thanks, hon."
Her dyed curly hair frames her face, and she's removed the vintage eighties earrings she's worn to the tournament today. Mindy gathers her traveling blanket around her body and pads over to my side of the aisle and sits down next to me. She didn't really ask, but I think boundaries are somewhat invisible to her. She's a good kid.
She's still half whispering when she asks, "Do you really have an infection, or are you just peeing a lot?"
I kind of thought that issue had been put to bed, and I'm unsure of whether it's okay to even answer her, whether I should shut her down. That just seems mean, though, and unnecessary. I answer that as far as I know, I'm just peeing a lot.
"You know, you could be pregnant."
As far as I remember I only raise my eyebrows and nod. Is this conversation actually happening?
"Odam is having a girl," Our other speech/debate coach and his wife are expecting. "I think you are pregnant. It'll be a boy; they'll be friends growing up."
Odam, last name, kind of astounds me as a coach. He's the one who has every kid clamoring to hang out in his room before school, after school, during lunch. I'm envious that our students want to be around him 24/7.
But … I am also absolutely horrified at the thought of my life being that taken over by children. I like the quiet before the first bell rings and that lunches give me a moment to think. After school I can plan and sit and rest, then I can seek my students out when I'm ready. I know where they'll be—Odam's room. These speech and debate tournaments last from Friday afternoon until late Saturday night and I enjoy them. I do. It is a lot, though. I sometimes just want to read and sit and disengage and be by myself.
Having company sometimes is nice, sometimes.
I take in what Mindy's said. She might not be wrong about this. The week before, when I had been shopping, I was suddenly drawn to a little blue blanket. One with frogs. It was so soft and felt necessary. I picked it up then slowly set it down again and left it there, convincing myself that I was crazy. We don't have any plans for this yet. The plan was to start trying next year, just before my husband's job transferred us again. So that I wouldn't have to leave my kids before we actually moved away.
"That'd be nice, for us to have kids who would become friends," I tell her. This is far too familiar a conversation to have, but it's so sweet and hopeful and generally not embarrassing, I let her go on, let her in.
"You know, I want to have lots of kids. I'm good with kids."
I'm sure she is good with kids. I watched her a number of times read stories to children and she's a natural: sweet and empathetic and kind. When she whispers about how nine children would be what she really would like, and how she knows she'll be a wonderful mother, I am sleepily sure that she's right about that. I like my privacy and I want to be professional and distant, but as Mindy keeps talking, the compartmentalized aspects of my life keep bleeding into each other. All I can feel is affection. It's nice that she has wishes and hopes and dreams for me, like I do for her. I secretly hope that she is a little bit psychic, too, while I listen and fondly watch her curls bounce along with the bus.
March 2006
A few weeks later and I'm chaperoning for a state-wide tournament. Odam was the one who really coached polished and perfected blonde Cheyenne to the top of her field, but things being what they are, no one is going to send a teenage girl and a male teacher alone on a flight to the Texan-Mexican border. So, I got to tag along, too. At this point I know Cheyenne more by reputation than conversation. She is a shark, great at debate but even stronger in original oratory. I'm a little nervous that she'll be just like those girls I knew in high school. The Winners. The ones who had little time for the "also-rans" like me. With a start I realize that I am still scared of popular teenage girls.
Absolutely humiliating.
My survival tactic back in the day had always been to bury my head in a book, act a little cool, aloof, and distant until I could prove to myself that it was safe to peek out. Often when I did, some slight, some pointed look, some omission put me back in my place. However, now I'm a chaperone, sharing a room with a girl who made it to State. I can't hide my envy behind a book all week and pretend I'm invisible and that she doesn't exist. That is just not going to be okay. I am a grown woman with a degree, a husband, and a mortgage, for God's sake. I should be over this stuff by now.
I'd filled my suitcase for this trip with a full pack of pads and a full pack of tampons, thinking I would need them. But day after day, the dull ache below my navel never developed into a full-blown cramp. When I could get away with it, I'd stare off into space calculating and recalculating. We had not been planning to get pregnant. I couldn't believe that Mindy might be right. Or that as I was figuring this out while I was hundreds of miles from my husband. I called him from the hotel and asked him to ransack WebMD, to look up every symptom I was having. Everything—exhaustion, bloating, nausea, sensitive nipples—meant I was either pregnant or about to have my period. My roommate was starting to get suspicious.
Between the moods swings, the napping, the bits of conversation she and Odam could hear and the fact that I couldn't not tell them for one more second because I was going to burst if I had to hide what might be the biggest thing that ever happened to me in my entire life from them for three more days … I admitted to them what was going on. That very soon I was going to find out if I was pregnant. To my surprise, they both grinned and bounced while we talked and they enjoyed teasing me mercilessly. Every time I scarfed a handful of chips, or started to drift off while I was talking, Cheyenne just laughed and would proclaim, "You are so pregnant, Kwagner." I feel absolutely silly for even considering being afraid of her.
April 2006
"Um, Miss?" Danielle is in my Pre-AP class and has come up to my desk. We're all writing quietly and she's approached me with her paper in hand and a stage whisper.
"Yep, hon, what you need?"
"Miss," she's quieter than ever and hasn't given me a drop of trouble since I met her, "I wanted to ask you something, but I'm worried that it might be rude."
I blink a little trying to guess what it could be, "Well, I'm sure it's no big deal. What's your question?"
"Well ma'am, I noticed that you've been looking a little poochy. Not bad or anything, but is it okay if I ask you, are you pregnant?"
I've only known I'm pregnant for five days and I wonder how I could possibly be showing already. I'm shocked. Well, the hell with waiting those first six weeks to be on the safe side. I'm not going to lie to her; there's no reason to. This baby, this tiny grain of rice with a heartbeat, wants to be a part of the conversation despite my introverted objections. I don't get a say, anymore, about keeping private.
"Um, yes, I just found out myself." Danielle squeaks as quietly as she can in delight. "But I'm not ready to tell anyone yet, is that all right?"
"Of course, I won't tell a soul, I'm just happy I was right. Are you excited?"
"You know, I am."
"Okay, Miss, that's all, I'll go back to work now."
She sneaks back quietly to her desk, never asking about her essay, never telling anyone before I'm ready. It takes me a while to realize how closely my body is looked at every day if so slight a difference is seen so quickly. I feel as if I had always been teaching naked and never knew it.
May 2006
Dierdre is unhappy that I am pregnant.
And she has stopped calling me "Mom".
She liked to call me "Mom" and had been doing so all year. We were close and I knew too much about her home life for me to ever see her real parents without having to push down anger. I knew there should have been a point when I drew that line between us more firmly, where I should not have allowed her to lean so heavily on me. But who can in good conscience step aside when you could catch someone who is falling? It doesn't dawn on me that she is having this close relationship torn away from her. My biological child could become my whole world, a world that wouldn't include her.
For a few weeks she doesn't even talk to me, doesn't smile. She had a boyfriend by then, and the two of them had stopped by before and after class pretty often. He assured me that he'd talk to her about it. I hoped he would, but for the few weeks that Dierdre kept me at arm's length, I was able to breathe.
As my pregnancy progressed, I needed literal breathing space. I needed fresh air to escape the fumes of Axe body spray and Bubble Yum that permeated the classroom. I couldn't escape the nausea of morning sickness, or the strange smells of masses of teenagers pressed around me at all times.
Figuratively, I needed breathing space to figure out whose kids were going to win out at the end of the day, mine or someone else's. My body wanted me to take a two-hour nap every afternoon. My gradebook, on the other hand, was gaping and empty and needed to be filled with percentages. Each night was a fight over who would get my time and energy and attention. I could not fathom how much worse the push and pull would be once my olive-sized baby was a full grown child. These are just logistics, though, and I harbored the illusion that if I was just well-organized and resourceful, I would be able to manage my time and energy to get things done.
Deep inside, however, I knew that Dierdre has forever muddled and warped my ability to be objective about this. Her deep, endless needs stared me right in the eye and made it clear that being a teacher is absolutely more than grammar and roll call and assignments. I couldn't pretend that just managing the paperwork will make everything turn out all right. I had asked these children to trust that I have their best interests at heart, that I care about them and what they will learn, that I will be in their corner through good and bad. It took so much of me, almost all my waking thoughts. The feelings that poured off of my kids stayed with me through the rest of the night, every night. It was so much.
If I were to leave them to stay at home with my baby, because it was too much, I would have lied to them about always being there. I would tell them that they'd be okay, that I'm interchangeable and, that their lives will be just fine after I have gone. Which will inevitably make them feel as if they were always interchangeable, that my life would be just fine without them. Not true. Some might understand, but the kids who needed the most were the ones who would feel me severing the ties the most completely.
Towards the end of the school year, Dierdre's class throws me a baby shower, complete with pastel streamers, yellow duckies, and a hand-decorated cake. We eat while watching Romeo+Juliet, and Dierdre takes a picture with me. She later sets it in a frame with the word Friends engraved all around in different fonts. An acknowledgement that I can't remain her mom, but maybe I am not lost to her forever. I'm glad to have her back, and scared that I'm going to have to leave her before too much longer.
October 2006
Last period, and Andrew is in trouble again. Maybe he's just talking, making the girls around him giggle, rolling his eyes back in his head, leaning back in his seat, and stretching his ridiculously long legs out into the aisle where I have to climb over them—I don't quite remember. I'm eight months pregnant and not happy about any shenanigans, much less his, so I've dragged him out into the hallway to ask him what's going on.
He gives me some muttered apology, again, I don't remember for what offense.
"Miss, you remind me of my mother. She's short and smiles a lot, too."
"Oh?" Is this a good thing, a bad thing…
"She lies all the time," he frowns and stares at me hard. "All the time she's smiling, she's hiding something, she's hiding what's going on to us, pretending it's not happening. I'm trying to figure out if you are really like her."
I know that Andrew is going to be testifying against his father in court soon, confirming that his father had abused him and his younger brothers for a long time. I know his aunt and uncle are raising him, and that I have no possible way to contact his mother. If you look at Andrew's file, it's as if she really disappeared.
"Okay." I take a deep breath. There is not much else I can say. He is studying me, and has been trying to decide if he can trust me. He looks down at my swollen belly. My shirts barely cover me and sometimes my lessons are interrupted because the whole class is mesmerized by the baby's flips and turns just under my skin, just under my shirt. I have become used to all the staring, all the questions. I had imagined that my baby and me, as we both grew, our intimate relationship would be wordless and private. Me and my baby, we're public property.
"Miss, can I ask you, did you want your baby?"
I'm about to answer him without hesitation, but I then pause to notice that I was about to answer him without hesitation. Before this baby, I would have weighed every answer to see if it gave too much away, or if what I said could have caused trouble somehow. I don't take time to decide if my answer will hurt him somehow, but I do take the time to make sure what I say is true.
"I wasn't expecting him, but, yes, I want him. Very much so."
He nods a few times and seems to trust that I haven't lied to him. "That's good. I think it's much better when the mom wants the baby. It's different."
The next class, Andrew brings in pictures. They are of him and his younger brothers as babies and toddlers. I sit by his desk and we all exclaim how cute he was. I'm torn. He's rewriting my image over his mother's, making a version of her who tells him the truth and who smiles at the child version of him. It seems to be helping him somehow. I cannot imagine leaving him behind in just a few weeks. But what had happened? When did he begin to believe that his mother never wanted him at all? How badly will I hurt my son if I don't do right by him?
Will my son eventually paste an image of a different mother over me? Will he look at me and know exactly who I am and need to erase that person, those flaws that hurt him so badly, in order to function?
I cannot afford to get this wrong.
October 2012
My son, Nicholas, the boy I carried around amid so much commentary, is now six years old. His kindergarten teacher is very pregnant with her first child. My guy seems completely captivated with the idea but refuses to ask her any questions. He wants to know about her belly, if she's excited, whether the baby is going to be a boy or a girl, but he absolutely will not ask her. He is terrified he'll embarrass her. I try to hide my smile at this, as if all the questions my students asked about him in utero had offended him deeply. He is quite serious, so I don't want to appear as if I am laughing at his plight. But I would have never guessed that this shyness would have become a part of him, especially after my students' impertinence helped break my heart open a little more than I thought it could.
When it's time for his teacher's maternity leave to start, Nicholas keeps frowning into his cereal. With furrowed brow he admits he is worried that he might forget what she looks like. "Mom, I've been having dreams for her and the baby, but I can't finish them if I can't remember what she looks like. Some dreams I can control but not if I forget her."
I don't know quite what he means. He is very serious and anxious about it, though, so I help how I can.
"Should we ask if we can take a picture of her?"
Nicholas nods but then yells out, "But I don't want to ask her! I would feel embarrassed. She might feel embarrassed."
"What if I ask her?" I offer. "I am sure she would think it was sweet that you wanted a picture of her."
I always did.
"No, I would feel embarrassed."
"But do you still want her picture?"
Nicholas looks down into his lap and whispers, "Yes."
I e-mail her and ask her for him then bring my camera when I go pick him up. When I take his teacher's picture, he hides behind my legs and barely says goodbye. She seems to appreciate that Nicholas wants to remember her. He seems uncomfortable and unsure of this intimacy, that she knows that he likes her. He misses her already.
She still isn't back from her maternity leave yet, and all us parents give each other looks because we know maybe she will come back and maybe she won't.
I didn't come back, and that was so painful.
I hope for my son that she does. I find it sweet and hopeful that he has wishes and hopes and dreams for her, the way I'm sure she does for him.
I have a feeling she misses him, too.
I always did.
•••
KRISTIN WAGNER writes creative non-fiction drawing on her experiences as a teacher, a stay-at-home mother to two school-aged boys, a wife, a person struggling with fibromyalgia, a foodie, and a self-appointed critic of pop culture. She posts regularly on these topics at kristinwagner.wordpress.com. In addition her work has appeared online with FibroDaily.com, Literary Mama, and, most recently, at Mother Always Write.
Nicholas's teacher did come back from her maternity leave after a solid twelve weeks home with her first-born, a boy. Once she finally did, my often anxious first-born was able to let his shoulders relax and was able to smile a little more quickly. And frankly, so was I.