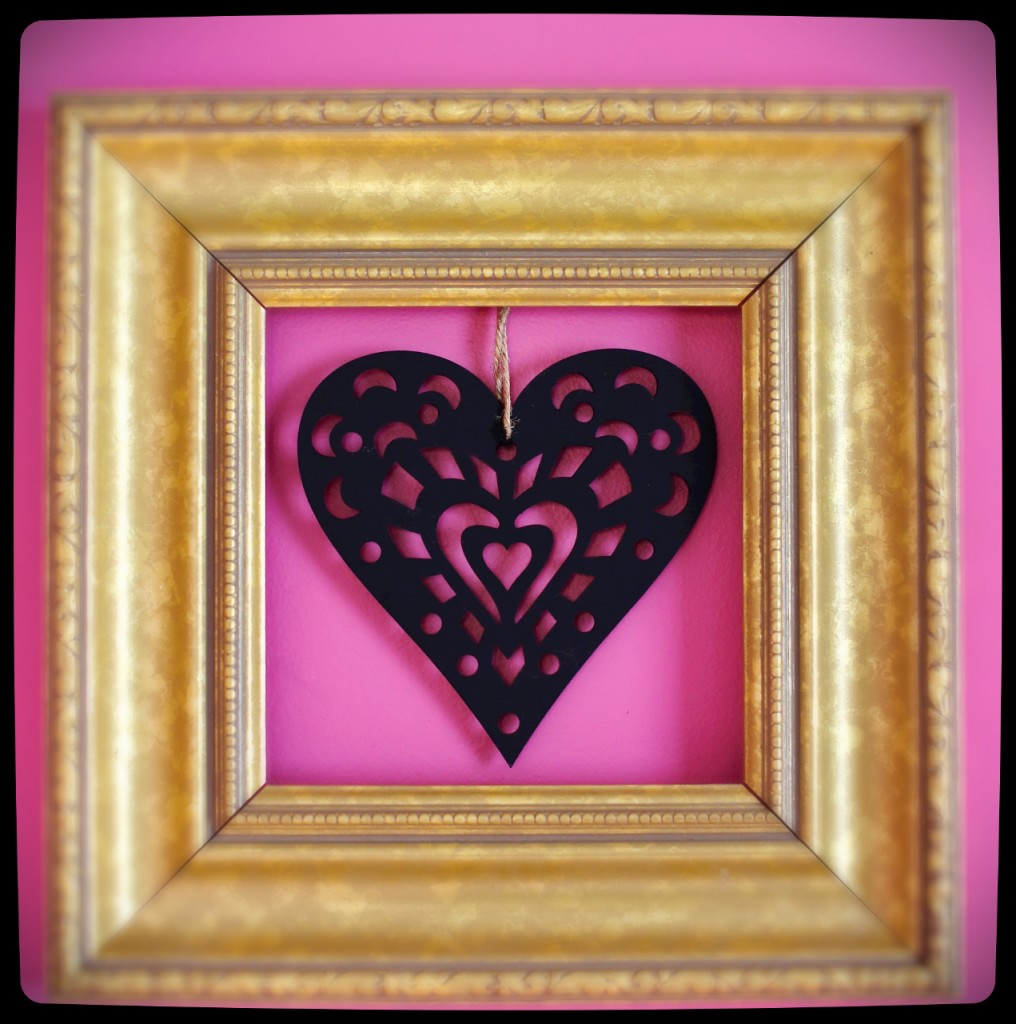 By McKel Jensen
On my first night living alone, I found myself in a room containing only a bed, a nightstand, and a single Tiffany-style lamp—the only thing I requested as inheritance from my aunt who passed away just over a year before.
It was Wednesday. Monday I had been in court petitioning an end to our marriage. Tuesday I had closed on a house. It was late at night and the next day my sister and parents would be coming up from Salt Lake and St. George to my little townhome in West Haven, Utah, to spend Thanksgiving with me. There would be no turkey cooking in my oven that year, but I was thankful they came all the way to spend it with me.
I'd received the keys to my house just hours before, and I stayed up late that night prepping the walls of my new bedroom with blue tape, getting ready for a fresh coat of paint. I chose a dark brown color named "Bay Colt" from the Martha Stewart line of colors. It was a comfortable color, grounded, and it would contrast perfectly with my new heavy, red bedspread that I had my eye on buying in the next couple of days. I painted accent walls that included the wall behind my bed. A healthy, rich soil color was perfect as a place to replant myself. Besides, the designer Vera Wang, three-hundred-dollar bedspread would be my way of being seductively mischievous (if only for myself!).
•••
Just two days before, I sat in a courtroom with Jim, two bailiffs, the court stenographer, our lawyer, and the judge. All the gallery seats behind us were empty. Once the proceeding started, life's reality began to settle in and the tears were uncontrollably escaping, enough that the bailiff brought me a box of tissues. I tasted the saline as the tears dripped past my lips. I had to swear the truth, the whole truth, and I had to convince the judge to grant an annulment to a marriage that could have/should have been annulled four years prior. Though Jim didn't have to go under oath, he was there and nodded in agreement at the implications of an unconsummated marriage. The judgment was final. It was as if Jim and I were never married.
I never understood the phrase as if you were never married. That's what our lawyer said an annulment legally meant. How can someone say that a marriage didn't happen? I experienced it. I was there. It existed to me. Legally, however, it never happened.
Remarkably, I never felt like a failure. Even on that day in my empty bedroom, I was exhausted and relieved. It was finally over. I had done everything I could think of to save my marriage—twice. We'd consulted with therapists (good and bad), physicians, energy healers, and clergy, but none could give us an answer or a cure.
I never gave up until I knew we were done. It was over when the truth that he didn't even want to want me finally resonated with me. If Jim did not want to want me, then there was no practitioner or prayer that could change his desire. So what was the purpose of discussing big purchases or planning future trips? What else could we get out of this relationship besides frustrated companionship? Those years felt like pedaling a bike on a treadmill, working so hard to go nowhere. There was no progression. If anything, I wished I had caught on sooner that this was a doomed marriage from the start.
We followed our belief to stay chaste before we were married. For a long time, I thought that if I hadn't been so strict in practicing my religion, I would have known. When we dated, he often told me he was uncomfortable with my forwardness. I thought I was the one whose sexual perspective was skewed due to a handsy ex-boyfriend. After we were married, I felt justified to find a way to ease the frustration outside of the marriage. I could have cheated on him and felt I could defend my actions, but I'm thankful I never strayed. Ironically, there were times I hoped that he would cheat on me so I would be angry enough to call it quits and feel justified to call off a God-sanctioned marriage. Other times, I would entertain the thought of getting him drunk and taking advantage of his stupor. Damn our religion. No sex outside of marriage and no drinking.
After so many years of silence, never telling anyone outside a professional few, I finally opened up. No more secrets from society. My mom lost a lot of her hair trying to take in what I told her. When it grew back in, it wouldn't hold the color as it did before. She had been caught up in our myth of perfection. Opening up also meant answering a lot of questions. Answering questions about that marriage has always been complicated. To those casual friends or acquaintances I would simply answer the question of "what happened?" with "It just didn't work"—only sometimes divulging the secret pun on the word "it." "It just didn't work" and it didn't. Others that got more detail would ask, "Is he gay?" or "Was it pornography?" Having been his wife, I could honestly answer "no" to each of those. I wished I had the answer as to why it didn't work.
•••
That day in my new bedroom was the beginning of my new life. I was McKel Nobody and I could be me and love me and want to be me. And, although I was surviving the trauma of an upturned life, I was going to be selfish for once.
After I moved in, I had a point of realization: this was my house, and I had complete, creative control. There was no compromising, no rationalizing, no male opinion, no collaboration of details. I was going for it. The color: Brazilian Blush. The room: my home office.
I then found a can of bright white, semi-gloss paint that I had used to paint floorboards in another house. I dabbed paint onto a small sponge and pat it onto a stencil of a butterfly. Instead of following straight lines as the stencil intended, I rotated each butterfly, one at a time. I worked myself around the room. I even hid a couple behind the door knowing I would be one of a select few who would get the secret.
By the end, I had a room full of butterflies gliding over my desk and around the black bookcases filled with books, over and around the window and above the closet. The idea of one butterfly being alone made me sad, so each butterfly was paired off with a companion or in families. "Well," I thought, "only this one can fly alone." So I let one independent butterfly have her space to prove that she could make it.
•••
About a year into our marriage, Jim finally sat me down to explain what he saw was going on. We sat in our 1975 split-level home that we bought a month before we were married. It had fake hardwood floors that were installed incorrectly by the previous owners.
"I, uh," he staggered to get the words. "I've been praying a lot about us."
My breath slowed.
"I've known I've needed to tell you for a while, but…" He stopped again. I thought we had a relationship where we could share anything, but his delay of telling me something made me uncomfortably aware that this wasn't going to be a fun conversation.
He then proceeded to tell me in the most logically constructed way that he could. "I am not physically attracted to you."
"What?"
This is where friends would say, "Well, why did he marry you?!" But it would be a few more years before I would ask that question and when I did, he replied, "I didn't want to be shallow." At this time, though, my mind processed everything slowly, methodically. I needed to obtain every bit of information I could to make a valid judgment.
"I am not physically attracted to you." Maybe I needed it repeated because the first one didn't take. "I see girls on campus that dress immodestly, and I instantly get excited," he confessed. "I don't get excited with you."
I sat there, honestly not knowing what to make of the information he was telling me.
"I think it has something to do with chemistry. We don't have any chemistry."
Chemistry. Sex is sex. What does chemistry have to do with it? Besides, isn't compatibility more important in a relationship than chemistry?
He sat there relieved, grateful that he was finally freed from the weight of his confession. I sat there heavy, burdened and wondering when the tears would start. They didn't for another twelve hours.
"Well, what do we do now?"
Jim was the one that suggested going to a therapist. When we arrived, we met with a tall, thin man who seemed as if he rode his bike to work and wasn't willing to make mid-morning appointments because it interrupted his morning ritual. I had no idea how to find a therapist that could help us, especially when we weren't asking for referrals from friends. I found him on an internet search on a whim. His name wasn't worth remembering.
"So, tell me what's going on?" he asked us.
The two of us sat closely on the couch, our arms crossing as we held on to the other's thigh. Jim explained our situation due to lack of chemistry, that thing that couples have that makes you bubble inside and want to jump on each other. "We don't have chemistry," he said. "I don't want to have sex with my wife." It never got easier to hear, although at the time I was thankful that I didn't have to guess what he was thinking.
The therapist smiled as if Jim had made a joke. "You don't need chemistry." He then continued with a question to Jim, "What do you not find attractive about her?"
Jim squirmed, "Nothing. I think she's beautiful." If he thought I was beautiful, why did we have a problem?
"There is nothing you would change about her to make her attractive to you?" He asked again as if I wasn't sitting right in front of him.
Ironically, I was hoping he would state something, anything—give this therapist some meat to work with! "No. Nothing," he admitted again.
I sensed the therapist and I had the same idea; he needed more than just crumbs, "What do you find attractive in a woman?"
"Well, I like redheads," he stammered.
At this point, the therapist turned to me and asked, "Have you tried dying your hair red?"
Apparently he thought that a year's worth of sexual incompetency would be remedied by a ten-dollar bottle of L'Oreal. "No," I said, though secretly wondering if it would work—if only for a second.
It was becoming painfully clear that all the therapist saw were two overweight virgins who got married and now couldn't figure out how sex worked. "We're asking for help, not to be your entertainment," I wanted to say but didn't. We scheduled two more appointments with that man.
•••
After that, we had a handful of therapists before I settled on one for myself. Her name was Tam, and she was there during my transition from as-if-it-never-happened to single. As I was preparing for my new house, she was the only one that didn't think I was silly for losing sleep over wall colors and furniture placement. "This is all part of your process for coping," she said. "You are focusing on your future, and that's good." If she had visited me in my house and saw the boldness I expressed in that blushing pink room, she would have been proud.
Although that room was my home office, I referred to it as my Alice in Wonderland room. I spent the following weeks and months finding trinkets and sayings that would fit into the theme. I handcrafted phrases such as "Why, this clock is exactly two days slow!" and "Off with your head!" and placed them on my bookshelves. Displayed on the far wall first seen when you walk were three black frames each holding a word in the phase "Whoo are you" and a fourth frame holding the tailing question mark. There was a time that Alice didn't know who she was either. Throughout the following months, I added a ceramic tea set, a large Mad-Hatter hat, ceramic mushrooms, a black, old-fashioned alarm clock and a caterpillar on a mushroom.
My fascination with Alice in Wonderland started one year before when Jim and I went to see the new Tim Burton movie in the theatre. Two months before the film's opening, I found myself forty pounds overweight (trying to fill my emptiness) with back, hip, and neck problems that caused serious discomfort and lots of chiropractic bills. That night at the theatre I was two months into my progressive goals of losing weight and obtaining therapy for myself and not for him (or us). Perhaps that is why I was so open to receive the messages of the film and why the Mad Hatter's line to Alice—"You have lost your muchness"—resonated with me. Alice couldn't remember who she was.
Two weeks later, friends and family from both sides descended on our house to celebrate my thirtieth birthday. And since I was born in 1980, what better way to celebrate than by a 1980s theme? Guests arrived in leg warmers, side ponytails of crimped hair, blue eye shadow, brightly colored mixed-matched socks, jelly shoes, upturned shirt collars, and the macho style single earrings that would make George Michael proud. My brother wore his letterman's jacket from high school that was a little tighter than he remembered. Jim wore a thick, black glamour rock wig and a Goonies t-shirt. People were smiling. I was smiling. The smell of freshly grilled hamburgers hung in the air as my family presented me with a cake with six-inch long candles jetting out of it.
Before the smoke from the extinguished candles reached my nose, I remember thinking, "This year will either be the best year of my life or the worst." Things would either begin to work or they wouldn't. I knew a change was coming. I had thought this during the weeks leading up to the dreaded thirtieth birthday, and I added it to my broken-record thought collection which already included the lyrics of the song "I Want You to Want Me" from the band Cheap Trick. That song had been on repeat for over a year already. No one knew about my thought collection. Surrounded by people that truly loved me, I knew that they couldn't hear my thoughts just as I knew that they couldn't see the gaping hole hidden behind my new "Everyone loves an '80's girl" tee-shirt. McKel had lost her muchness.
•••
The pinkness of that butterfly-filled Alice in Wonderland room proved that I hadn't quite lost everything. I had made a place for myself. I was still undecided if my thirtieth year was the best or the worst year of my life. It was certainly one of the hardest but deciding to leave that marriage was a relief. For the first time in years, I felt like I could finally progress, even on my own.
As the months followed, I finished painting my house—except one room. It was the third bedroom, between the Alice in Wonderland room and the second bathroom. My L-shaped couch was wall-to-wall without an inch to spare. I dubbed this room the "makeout room," mainly as a joke. Having been married to a man who couldn't perform and wouldn't accept me (and a lousy kisser, at that), I figured, as the phrase goes, "If I build it, they will come." Pun intended. It must have worked because once, while making out with a guy, the man suddenly jumped up, said, "I've got to go," and ran out of my house. I never got an explanation.
That house served its purpose well through the seventeen months that I lived there. I healed in that house. I started grad school and did my homework while in that house. My husband, Daniel, and I found chemistry in that house while we were dating.
I met Daniel six months after moving in. He was from Brigham City, thirty minutes north of West Haven, and the thought that I almost bought a house closer to Salt Lake made me wince with what-ifs:
"What if I had bought a house farther away from you? We may not have met!"
"I would have found you," he replied.
Nearly a year after Daniel and I started dating, we were married. And while preserving the sacredness of my marriage with him, I will confess that it is blissfully normal and that it works.
•••
McKEL JENSEN is a newbie to the world of published personal essays. She has worked behind the scenes in the non-fiction book publishing industry and currently works as a technical writer/editor for a large manufacturing company in Utah. She has recently received her MA in English from Weber State University, where she was selected to be commencement speaker for her graduating class.  She lives in northern Utah with her wonderful husband and ever-curious son.