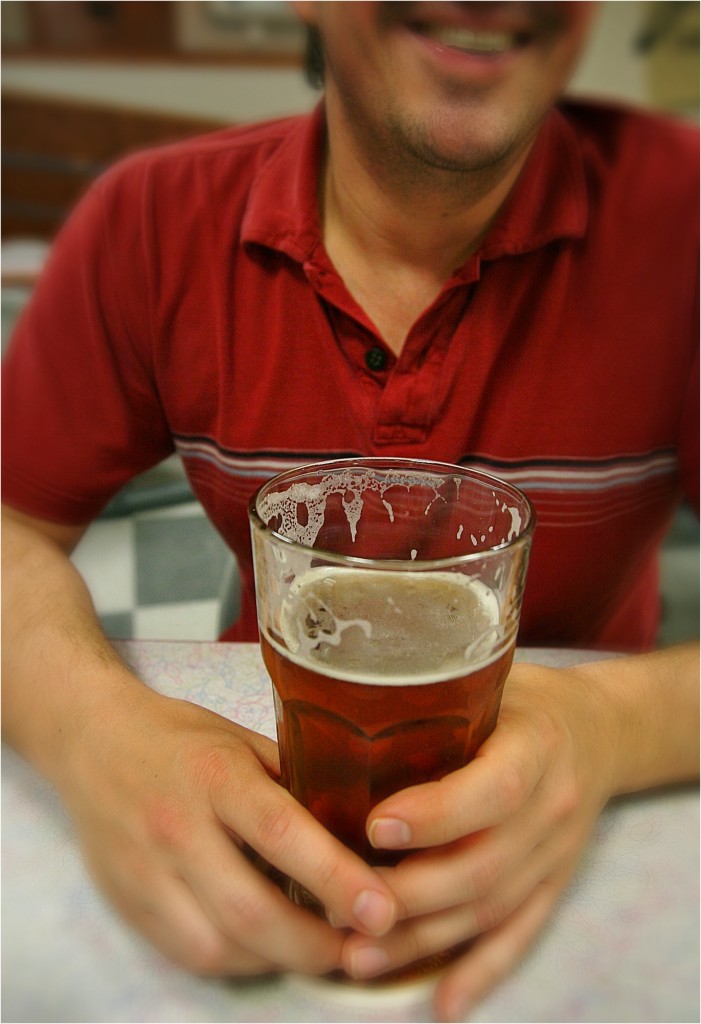 By Reyna Eisenstark
A couple of weeks ago, I was at a concert in a bookstore in Hudson, New York, when some hipster put his nearly empty pint glass right on the bookshelf next to him. (This is a bookstore so hip that it has live music and serves beer.) And noticing the glass's precarious placement next to the James Joyce books (of all things!), I waited a few minutes until I could no longer stand it and then grabbed the glass and put it on my table. A guy closer to my age than the hipster's sitting near me immediately said, "Thank you! That was bothering me too!" And then, "Are you a Virgo?" What I said was no, but what I thought a few days later (when I accused my own ten-year-old daughter of being a Virgo) is that what I am is  … a grown-up.
This realization had been a long time coming.
Just a few years ago, when I was forty years old and my twelve-year marriage had completely unraveled, I dated a guy who was ten years younger than me. It started out as you might expect, but it turned out that we had many things in common: favorite authors, movies, music. Remarkably, we even shared a love of certain television shows, ones that he had watched in reruns growing up and I had watched in real time.
One of the thrills of dating a thirty-year-old was living the life of a thirty-year-old, but as a forty-year-old. On the weekends, while my daughters were with their father, I would step back into another world. My young boyfriend and I would go to parties at his friends' houses. Sometimes that meant sitting around a fire pit in a backyard, smoking way too much weed, and watching a girl dressed in a cape spinning around in a hula hoop, and sometimes it meant sitting on a zebra-print couch, in a black light-lit room decorated with black light posters, again smoking way too much weed, and wondering briefly why I had ever left my dorm. Going out with friends meant first going to someone's house and getting sufficiently drunk before heading out into the world. Going out period actually meant staying out until two a.m. and sleeping until noon the next day.
I had done all of these things before. And in actuality it had been many years before. Somehow all these people I met in their late twenties and early thirties were living a kind of delayed life, the one I had gone through in my early- to mid-twenties until I ended up settling down with the man I eventually married, and we went to, for example, readings at the 92nd Street Y. But here they were in their extended youth, with their comic book hero costume parties, and my young boyfriend firmly in favor of staying that way for as long as possible.
And here I was, astonishingly getting to do the whole thing all over again. "You've found a time machine!" exclaimed my friend Susan when I told her about my weekend life. And that's just what it felt like. A time machine that actually worked the way it was supposed to instead of the way it works in nearly all science fiction shows, with devastating results. Because honestly who wouldn't want to return to the hedonistic days of their youth but without all that youthful insecurity and doubt? For a while there, I will admit, it really was thrilling.
I was always the oldest person wherever we went. Strangely, it didn't bother me at all. I sometimes found myself an amused observer, smiling to myself with some inner knowledge that I knew it would take these people years to figure out. Although there were times when I saw girls, say, dressed in shorts with tights, a look I could no longer pull off, and the realization that they were just at the beginning of something made me feel envious. I was getting to experience youth, it was true, and there were times, dancing at some club in the way early hours of the morning, that I felt truly alive as I hadn't in years, but I would have never done these things at forty were it not for my young boyfriend. And that was when I realized that my actual youth was truly over.
I liked to imagine that my boyfriend's friends saw me as a cool, possibly striking, older woman, but I honestly have no idea. When I was about twenty-two, a friend of mine was dating (and eventually living with) a thirty-year-old woman. A bunch of us would go over to their apartment and the only thing that struck me were the lines on his girlfriend's face, something that I hadn't really ever noticed on anyone before. She looked older, but we all got along just fine. This seemed to be the way things went with my young boyfriend's friends, too.
Things went on like this for about a year, but my relationship with my young boyfriend evolved into nights at his apartment cooking together and then watching a movie or some TV show like Mad Men, which was perfectly fine with me. It turned out that my young boyfriend, lost, trying to get his career started, was going through a kind of depression, but it also meant that I wasn't staggering around exhausted at one a.m., dying to leave the bar and just get to sleep.
And then one night when I came over, wearing an old blue hoodie and expecting a night of homemade dinner and TV as usual, my young boyfriend mentioned going to a party and I actually protested. We hadn't gone out into the real world in a long time, and I found that I had preferred it that way. But I agreed to go along.
It was on the way to the party that I had a revelation, the kind of thing that could only come to a forty-something grown-up: I did not care what anyone thought of me. I was going to go to this party and if no one liked me, it completely didn't matter. I didn't even have to talk to anyone if I didn't want to! Who cared! Thus freed from the usual party anxiety, I had a rather enjoyable time, snacking on the plentiful Trader Joe party snacks, drinking beer, and standing in the corner of the kitchen in my hoodie, observing the young people around me with a permanent smirk on my face. At a certain point, my young boyfriend tried to include me in the conversation he was having with some couple, and I made just the slightest effort at being friendly. But mostly I just didn't care.
I realized that I no longer envied these young people, with their whole lives ahead of them. I realized that they would be making the same decisions I had: they would marry or not, they would have children or not, and every decision they made would make them regret others they did not make. They were just at the beginning of this stage and I was, I realized thrillingly, relieved to be on the other side. As a seventy-year-old woman once said to me, "We are all young for the same amount of time."
So let's leave that party for now and return to the empty pint glass. One way to think about it is this: a twenty-something puts the glass on the bookshelf (next to the James Joyce books, for chrissakes!) and turns away from it without a second glance. The thirty-something sees the glass, feels worried and perhaps a little responsible, but ultimately turns away and hopes for the best. The forty-something sees the glass, and having seen dozens of nearly empty pint glasses spill or crash, grabs it from the bookshelf and sets it down. The glass is no longer precarious. It is exactly where it should be.
•••
REYNA EISENSTARK is a freelance writer living in Chatham, New York. You can read more of her essays at reynaeisenstark.wordpress.com.