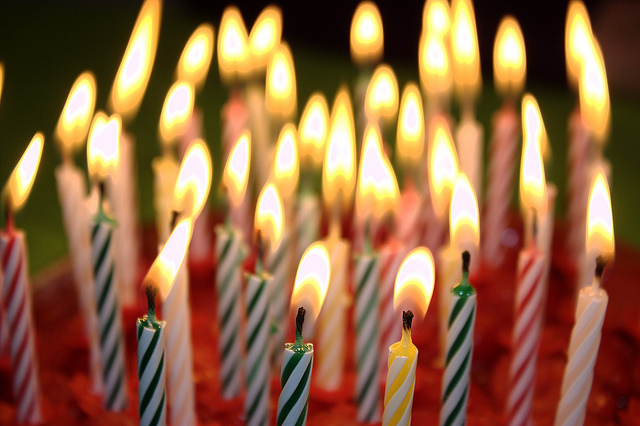 By Reyna Eisenstark
I stopped lying about my age when I was sixteen years old. This might not sound like much, but if I were to consider some of my life's greatest moments of relief (a single but breathtakingly beautiful epidural injection shot perfectly into my spine comes to mind) that would be right up there at the top.
To make some sense of this, I should explain that this happened during the second half of my senior year of high school. I was actually not yet sixteen. My birthday was coming up, however, and my mother thought it would be a fun idea to have a sweet sixteen party for me. Or so she claimed. I'm not even sure what she was thinking, but I suspect she liked the idea of decorating and redecorating our apartment for an actual reason.
One night, about a month before my birthday, she and my stepfather came into my room. "We need to talk to you," she began, which was enough to cause the panicked terrifying feeling that shot through the entirety of my teenage years. Had she looked through my journal yet again and discovered yet again that I was counting the days until I could leave home? I couldn't begin to imagine what she imagined I had done. But no. It was simply this: "How old do your friends think you are?" she asked me, with a strange quizzical look.
"I don't know," I answered, as my panic increased.
"Do they have any idea how old you are?" she demanded.
And I told her that I guessed they probably didn't.
Well! It turns out that my mother had called one of my best friends to plan this so-called party and discovered that my friend had no idea how old, or rather how young, I was. My mother suspected that none of my friends knew. And then here's the part that seems like a miraculous gift to me now but, at the time, seemed like the cruelest punishment imaginable. She demanded that I tell every one of my friends, right this very minute, how old I was. The lie could not go on for a single minute longer.
Which is curious, in a way, because my mother has been lying about her age since I was a tiny child, although she always takes years off instead of adding years on. And she is fiercely protective of her birth date, which has changed slightly as the years have gone on. But for some reason, she would not sit by and watch while I kept my real (remarkably young) age from my friends. Perhaps she thought that I should have been proud of such a thing, but for years I had, of course, been ashamed of it.
For reasons unknown—but I suspect simply because my mother wanted me out of the house—I had started school an entire year before I should have. This wasn't so terrible, as my birthday is in March and there were some kids born in the fall who were just a few months older than me. You were tall, my mother always told me, as though this was a good reason to start school a year early. I went to a small groovy private school that was happy enough to bend the rules.
But then when I was in fifth grade, this small groovy private school was suddenly no longer the place for me (I was never given a reason for this either), and when I switched to public school, my insane reading ability deemed it perfectly acceptable for me to skip another year. I was tall, remember.
And there I was, suddenly in sixth grade, aged nine-and-a-half, and in a permanent state of panic that people would find out. But as luck would have it, my sixth-grade teacher would not let anyone forget. We began learning Spanish that year, which played out like an exotic form of torture, in which I crossed my fingers tightly under my desk, praying that I would not be called on.
"Cuentos años tienes?" my teacher would ask, strolling around the room. How many years do you have? And in the sweetly vicious voice of a classic bully, she would add, "Reyna?"
"Tengo nueve años." I have nine years. I would answer her as quietly as I could, my face burning with shame, noticing or possibly just imagining a murmuring sound everywhere in the room.
As the years went past, it became much easier to let people make assumptions about my real age, and if questioned, to lie about it.
"How old are you?" asked the meanest girl of a group of mean girls in my eighth grade class who called themselves The Dizzy Crew.
"How old do I look?" eleven-year-old me answered. She snorted.
"Ha! How old do you look??" Somehow this bought me some time.
And so, on the night I was forced to tell my friends my real age, the usual panicky feeling carried me along as I began to dial the first number, until I realized that something was happening to me. That enormous weight that that I had been carrying with me all this time, the weight of the two full years I had skipped, was slowly, and almost imperceptibly at first, lightening. My friends were surprised and kind of impressed by my confession. None of them thought less of me, as I had feared, and soon it just became part of who I was: their much younger, but still likable, friend.
And I carried on, graduating college at the tender age of twenty and, thus, headed out into the world, still too young to drink legally (confession: I did not let this stop me). I spent years thinking that I had an extra two years to do with as I liked, and maybe that's why it took me so long to figure out an actual career (if I have, in fact, actually figured one out), since I really had plenty of time. In fact, I had two extra years! I would always have two extra years! It's hard to pinpoint a single thing that has made me a lifelong procrastinator, but I'm considering that simple thought to be a good candidate.
The fact is that being two years younger than my peers was truly the most significant thing in my life, until one day…it wasn't. One day, in fact, I was more likely to be the oldest person in a room than the youngest. It's not really a revelation to point out that there is practically no difference at all between, say, forty-four and forty-six, but it astonishes me every time. After my marriage ended (to a man older than me, of course), I dated someone ten years younger, and my friend Rachel exclaimed, "I didn't even know there was anyone younger than you!" I knew what she meant. I mean, in theory, there always had been people younger than me. But now, it was obvious. To people looking at me, I'm really just "a woman in her forties." Or possibly, worse, a "middle-aged woman." There is literally no evidence that I once felt constantly and hopelessly out of my element, that I tried desperately to catch up with things I was never quite sure I had fully processed. Suddenly, now I am wise. I have perspective. I can offer advice. Getting older has made me feel the one thing I'd never felt before: older.
And so, to the girl who spent several hours on the phone one night not long before her sixteenth birthday, I would like to say this: That thing that bothers you, that nags at you, that drives you to worry and exhaustion nearly every minute you think about it? One day it won't even matter. In fact, it will cease to be something about you, about who you are at all. One day, and I know you probably won't even believe this, but one day you might not even remember how old you are. And I am certain that nearly sixteen-year-old me would look at her future self—a maybe forty-something woman?—and turn right back around to what she was doing. I'm pretty certain she'd hardly notice me at all.
•••
REYNA EISENSTARK is a freelance writer living in Chatham, New York. You can read more of her essays at reynaeisenstark.wordpress.com. At the time of this writing, she is forty-four-and-a-half years old.