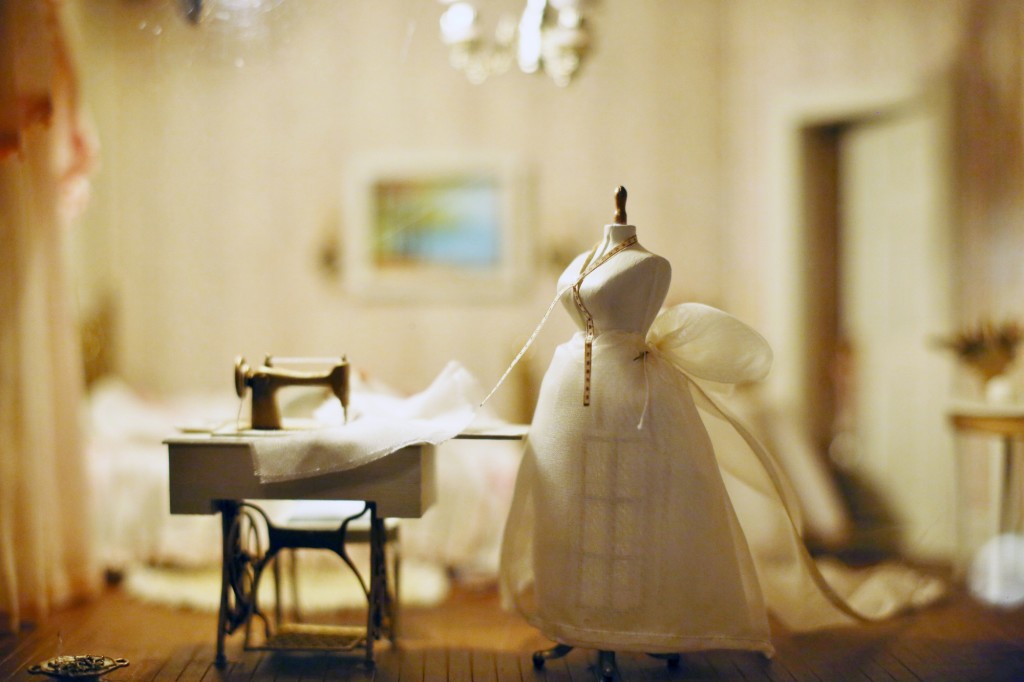 By Melissa Ballard
Only after you've had two glasses of wine, and only in a joking way, can you maybe admit to having graduated from fashion school. But, after all this time, you still wonder why on earth you did it.
Maybe because all your friends and your boyfriend had somehow been accepted to college, but you had never even applied, because you were a confused and mediocre high school student, and nobody in your family had gone to college. And you had to do something, for God's sake.
So, when you were moping over the photos of Lane hope chests in Seventeen, maybe you also saw an ad that said something about "a career in a year" and promised graduates entrée to a number of jobs, including buyer for a department store. You liked your after-school job at a small clothing and gift shop, so you cut out that ad and begged your parents to pay the tuition, if you promised to use your savings to cover your living expenses. They finally agreed, so you signed up for fashion school. And on September 13, 1970, fresh from the suburbs of Cleveland, the trunk of your dad's palomino beige sedan crammed with your personal possessions, you arrived in downtown Toledo, Ohio.
Fashion school was seventeen courses, thirty hours each, for a total of 510 hours in the classroom. Plus homework. Principles of Buying, Fashion Sketching, Fashion Writing, Business Economics, Color and Design, classes like that. And while you could certainly argue that it was not the Harvard of the Midwest, maybe you liked those courses, worked hard, and got excellent grades, because it was so much smaller than your high school, just fourteen other girls and you, and your teachers were mostly women who wore lots of make-up, and hats and weirdly dressy clothes for a weekday, but were real-live career women.
Of course, there was that mandatory finishing school component of the curriculum that you overlooked in the fine print. Afternoons, during the first semester, you had to take classes like Visual Poise, Wardrobe Styling, Make-up, and Personality. That part may not have gone as well as the morning classes, because you might have been 5'3" on your tallest day, and less than lithe and, even with your contact lenses, your mother's nickname for you was "Plain Jane." Also, you liked to think you already had a personality, even if it was not the correct one. However, you did learn such valuable life skills as how to enter a car like a lady: butt-first.
In the afternoon, there was also a Voice and Drama class, and your teacher assigned a speech from Macbeth, the one that starts with "Tomorrow, and tomorrow, and to-morrow, creeps in this petty pace from day to day," and ends with, "full of sound and fury, signifying nothing." You were all supposed to memorize it and be ready to recite it in class, but you refused to do it, claiming it was a waste of your time, but really you were terrified that you wouldn't be able to do it, and there you'd be, standing in front of everyone, with no words coming out of your mouth. Normally, this was not a problem. You were shy, but you had also learned to make fun of yourself before anyone else did it for you. Somehow, you still passed that course and all the others, too, making you, presumably "finished," not as in "ruined," but as in "completed."
And you stayed, even though you were miserable and scared much of the time. Like that Saturday when you and your roommate were the only ones on the floor of the residential hotel that was being converted to offices and that did not, contrary to the school's ad, provide onsite adult supervision other than the elderly guard who sat at the front desk in the lobby and may or may not have been there 24/7.
You stayed even after you brought your laundry up that day and were folding it and a strange man appeared in your doorway and you froze, but your rural roommate threw the empty clothesbasket and ran at him screaming, "Get out!" and "Go away!" and finally he did.
Maybe one of the students was twenty-one, or knew someone who was, and so, some evenings, you were able to consume as many whiskey and Seven-Ups at one time as you liked. And you learned that those drinks made you calmer, happier; you felt as though you fit in better and were more like other people, until you had one too many and found yourself kneeling on the tiny white hexagon tiles of the bathroom, releasing the contents of your stomach, then sobbing hysterically about how much you missed your boyfriend and how much you hated fashion school.
But, one sunny day in the spring of that school year, you walked into your friend Karen's room and heard a voice as plain as your own, but on-key, singing, "My life has been a tapestry of rich and royal hue." You picked up the album cover and studied it: Carole King's face was as plain as your own, with dishwater brown hair like yours but crazy curly. She wore a loose sweater and jeans, and no shoes. It was the opposite of the dress code you'd been obeying for the past seven months. You weren't entirely sure about this tapestry business, but it seemed like something worth pursuing, and you suspected it had more to do with the books you were reading on the side than anything you were learning at fashion school. Books like The Art of Loving, The Feminine Mystique, The Chosen, Atlas Shrugged (so much longer and duller than The Fountainhead, but necessary somehow, at least then) and, over and over again, anything by Salinger.
Maybe you graduated with honors, which sounds like a joke, but is true, and you gave a speech about character, both of which you had forgotten about until you were going through your mom's things a year ago and found the program and, neatly folded inside, a typed copy of your speech, with the key phrases underlined twice, in pencil, so you'd remember to emphasize them.
Maybe you stayed in Toledo and got an apartment with your fashion school roommate. You worked at a newly opened clothing store for Juniors in a newly opened mall, where one of your former teachers was the manager. You did not drive or own a car, and the mall was five and a half miles from your apartment, the bus situation was iffy, and you worked some evenings, so you sometimes got a ride home from work on the back of the assistant manager's boyfriend's motorcycle.
In your free time you read, smoked pot, drank, took muscle relaxers and, once, over the counter diet pills. The latter made you really peppy and not at all hungry, until you got stomach pains so bad you doubled over, and after those stopped, you walked across the mall to the bakery, where you ate too many cinnamon rolls and gulped white milk from a small, waxed carton.
You grew tired of spending your work shifts standing in the front of the maroon-carpeted, rough-wood-paneled Juniors' store, wearing hot pants, and folding and refolding tops, while trying to strike up awkward conversations with people who walked by, so maybe you could lure them inside to buy something.
Once, after the district manager said you weren't trying hard enough, you marched up to a woman who was browsing the sale rack, guided her to the new rabbit fur jackets, and convinced her she deserved to buy one for herself. You felt your lunch churning in your stomach as you stood behind the counter and watched her slowly pull wrinkled singles from her purse and then the pockets of her jeans, as she tried to qualify for layaway. When she finished, you fought the urge to push the money back to her, pat her hand, and tell her to go buy something practical. Maybe that was when you decided to fashion a life some other way.
Now, you are finally able to bear the thought of going back. The school has closed, but you stand outside the now-historic hotel where you lived forty-three years ago. As you look up at the fourth floor windows, you remember a night when you'd had just enough to drink so you were relaxed but not sick or weepy. You ended up, fully clothed, in a waterless bathtub with several of your classmates. You were all singing, though you've forgotten the song. Without a doubt, the cover of The Mamas and the Papas' If You Can Believe Your Eyes and Ears, an album you had listened to over and over again during high school, inspired you.
You look down the street at the newly built Mud Hens' stadium, and you remember Mondays, after your classes were over, when you and your roommate walked in that direction to the meat cutting school that has since been torn down, where you carefully chose a pork chop or some thin sheets of veal for your dinner that night. And after you cleaned up a corner of the filthy, shared kitchen with its limp heads of iceberg lettuce, shriveled apples, and cartons of curdled milk, you cooked that meat along with frozen vegetables and Rice-a-Roni, the latter to make you feel as though you were living somewhere more exotic than Toledo, Ohio.
As you turn the corner to check out the front entrance of the hotel, you think of a guy you dated during your "I'll go out with pretty much anyone who asks me because my boyfriend is 204 miles away and increasingly absent" phase. This date drove a red Corvette he loved too much to leave downtown unattended, so you waited for him on the corner of Superior and Jefferson. You stood alone on a city street, after dark, no phone booth nearby, one of the many chances you took because you did not yet understand the word "mortal."
And, finally, you remember that you eventually substituted your Glamour subscription for one for the new Ms. magazine, and you proudly wore flannel shirts and faded, patched jeans to your college classes. You got married, earned two degrees, had a baby, and ended up working with children and, later, teaching college students.
Maybe now you can finally give your eighteen-year-old self a break. Accept that, while it might have been a good fit for someone else, fashion school mostly helped you learn what you did not want, but maybe that's a big deal, especially when you're young.
•••
MELISSA BALLARD studied fashion merchandising, worked retail, and was a bank teller and a public school camp counselor before attending college. She has since worked as a speech-language pathologist and a college instructor.  Melissa has written essays for Brevity, Gravel, JMWW, and other publications.