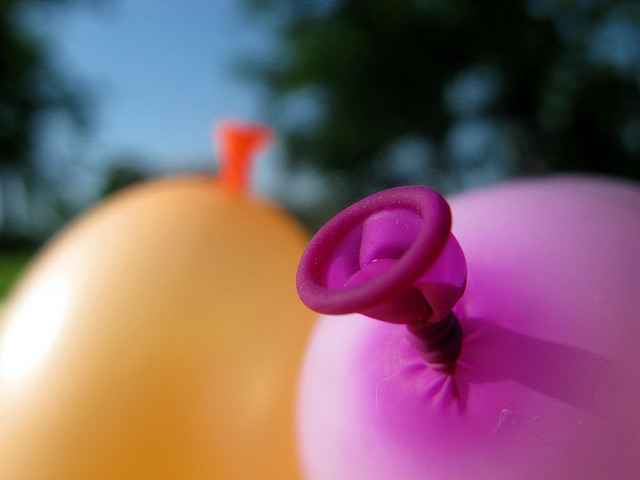 By Sobrina Tung Pies
It was May 22 when Alan died last year. Everyone around me was amazed by how well I managed, but that's because they didn't know the whole truth. By June, a little man had set up shop inside my chest. To be clear, the little man doesn't live in my chest—he doesn't have groceries in the refrigerator or put his feet up on the coffee table at the end of the day. To say he works there would be more accurate. The most surprising part of it all is when I look in the mirror: My husband is gone, my body harbors an invader, and I hardly look any different for it. I can see why people might think I'm fine.
I have never heard the little man say anything, not even a sigh, but I feel him. He's the busiest when I miss Alan the most. I don't know what his full job description states, but I have a good idea. His job is to ensure I feel everything I can't show: the homesickness for a place I can never return, the crushing weight underlying the finality of it all. To get his point across, he launches intermittent campaigns throughout the day—"grief attacks," I call them. Sometimes the attacks are big and violent, forcing me to crumple onto my couch, blinded by tears. Sometimes they are small, squeezing all the air out of my lungs. At first, living with the little man frightened me, but over the past nine months, we've learned how to co-exist. When he wages his attacks, I can only let him.
I alluded to the little man in the very beginning, back when people were still dropping off casserole dinners. They nodded with their mouths turned upside down and tried to imagine what it must be like. But after a while, everyone went back to their normal lives. I couldn't blame them. I tried to, too, but nothing felt normal anymore. People stopped asking about the little man wreaking havoc in my chest. They wanted to know about my vacation plans, work, my new haircut. I brought him up less and less until I eventually stopped talking about him.
•••
This morning, the little man is very busy, making it hard to get out of bed. My body feels twice as heavy as normal, as if long, lead bars now occupy space in each of my limbs. The bars don't take up all the space in my arms and legs, but they don't rattle around either. They're heavy, after all. The little man shields his eyes with his hand, looks up, and frowns. Dark clouds are in the forecast, threatening rain. They've been brewing in my head over the last couple of days. I roll over onto my side, summoning the energy to get ready for work, and feel the lead weights follow a second later.
•••
I work at a mid-size tech company in Mountain View, California, where I do B2B marketing. Mostly that means putting together PowerPoint presentations that the sales team use to pitch solutions to clients. It sounds straightforward enough, but somehow my days are full of back-and-forth email exchanges, meetings, and rough drafts. Everything takes longer and involves more people to complete than you'd imagine. For instance, this morning I am in a meeting with eight people to discuss logo designs and venue possibilities for an upcoming event. Two people present in the meeting, one person makes the decisions, and the rest of us are just along for the ride. The meeting eats up an entire hour of everyone's day. Normally, I would get antsy thinking about the other things I could be doing in that hour, but it's hard to care with the little man going on as he is.
It's strange being at work in the middle of one of his violent attacks. All my Alan memories, the sad ones reserved for when I'm alone at night, bubble up dangerously close to the surface. I look around the room in a slight panic, but no one is paying any attention to me. All eyes are focused on the screen at the front of the room. I sit back in my chair and try to focus on the presenter's explanation of this particular logo's type treatment.
After the meeting, I go back to my desk, and, in an attempt to keep the grief attack at bay, I scroll through the endless emails that have poured in over the weekend. I delete the ones that are spam, ignore ones that require nothing of me, and flag the rest to respond to later. Some emails are marked with an exclamation mark to denote the urgency of their contents, but after reviewing them again, I decide they can wait and begin making my list. Every day I make a to-do list. First, I write down each task that I need to complete. Then I go back through the list, writing a number next to each item according to its deemed priority. Priority assignment is based on the project requester, the deadline, and the number of people depending on it. These are just loose guidelines, though. Sometimes I'll assign a task a higher priority just because I feel like working on it at the time. It's funny because they're just numbered items on a piece of paper, but as soon as I finish making it, I can focus. Without it, the fear that I'm overlooking something else more important that I should be working on creeps in and paralyzes me.
I have only prioritized about half of my tasks when I can feel my resolve crumbling at the edges. I catch myself slipping and hope the little man doesn't notice. The little man, however, doesn't miss a beat and seizes the opportunity to make inroads on his attack. He pulls me in, and I am helpless to stop it.
•••
I am back in our living room on that last day. Alan is lying in his hospital bed, next to the fireplace. He's moving his arms and muttering words under his breath, as he has been for the past week. This morning his lips are the slightest shade of blue, his breathing has changed, and his knees are purple. Everyone else had missed it when they'd left for my sister's college graduation that morning. But I saw it. I knew everything was about to be different.
I call hospice and talk to the nurse manager, explaining the changes in his condition. When I mention his purple knees, she pauses. Purple knees, I learn, are a sign that your time together is almost up. I ask the million-dollar question we've been asking ever since he was first diagnosed: How long? The nurse manager tells me she'll send someone who'll be able to assess the situation and give me a better timeframe. I hang up the phone. I don't know what to do, so for the moment, I do absolutely nothing. I have never known Alan's knees to be so telling.
After I gather myself, I break apart again, crying in the chair next to Alan's bed. I'd been preparing for this moment, but I'm not ready. I don't even know if now is the right moment. If he has hours left, I should say goodbye now, but if he has days left, shouldn't I wait? The silence settles over us like a heavy layer of dust. I decide to say goodbye now, just in case, but everything that comes out sounds stupid. My voice isn't my own.
Finally, I lean into his ear and whisper. It sounds better when I don't have to hear that voice that isn't mine. I tell him how much I love him, that I'll be okay, that he can go if he needs to. I read in one of the booklets hospice gave me that it's important to "grant permission" for your loved one to let go. I don't believe myself when I tell him I'll be okay, but I hope they might be the magic words to bring him comfort. I sit back down and stare into his face, convinced I'll see something register. But if it does, I can't tell. His expression is unchanged, his arms still moving—
•••
A steady stream of people walk by my desk. I look at the clock in the corner of my computer screen. Lunch is fifteen minutes late. It's normally served at eleven-thirty, and if it's not served within ten minutes of that, people go crazy. That's a slight exaggeration but not by much. Fearful that we might never eat again, people begin lining up in the cafeteria as if somehow that might help. I check the lunch calendar I keep pinned to my wall. Today we are having lunch from a restaurant named Pizza?. There is an actual question mark in the name.
The food finally arrives, and I can hear the soft roar in the cafeteria from my desk. After enough people walk past me with salad and pizza slices piled high on their plates, I walk to the kitchen to see what's left. I place two slices of veggie pizza on a paper plate, fill a cup with water, and head to the lunch table where I usually eat with the rest of my team. At the last second, I think better of it and make a beeline for my desk. I don't have the energy to make conversation today.
It makes people uncomfortable when you just sit and listen. Most people need to fill the empty space with some kind of noise. In my experience, it's only a matter of time before people run out of things to talk about. They start asking questions they already know the answer to or bringing up inconsequential topics. I find myself repeating things I already said or feigning interest. Short of wearing a tee-shirt that says "I don't feel like talking, but I like sitting with you," the only thing I can do is watch more movies. Whole worlds unfold in front of me, and I don't have to say a word. And sometimes, though not always, movies can make me forget the little man's even there.
My favorite movie genre is science fiction, especially those of the apocalyptic and post-apocalyptic variety. People think it's somewhat strange, but when your husband dies at thirty-one, the idea of everyone else dying en masse, holds a romantic allure. Almost every night, I watch a movie—sometimes even two or three. A part of me wonders if I'm abusing them, like an illicit substance. I'm sure a psychologist would ask if my movie-watching negatively affects my everyday life. I suppose it doesn't really, except it irritates me to participate in conversations when I would much rather have them play out in front of me like on a movie screen. That might be one negative impact. But you never hear about movies ruining someone's life, do you?
If I could only watch a movie right now, it might help me deal with the little man. But, being alone at my desk with only my veggie pizza to occupy me, I know he won't let me off easy. As I chew, he taps around my right lung like he's testing the quality of a cantaloupe. When he hears a sound that pleases him, he uses one hand to mark the spot and, with his other hand, removes a tiny straw from his back pocket. He raises it high above his head, then swiftly brings it down, puncturing a hole in my lung. I let out a small gasp. It's a small straw, but I can feel the air escaping through it.
I wonder if this is how it feels to have a collapsed lung. I know two people whose lungs collapsed: my friend Sue and a co-worker's boyfriend. Neither of them even knew it had happened. Sue found out during a check-up the day after getting a lung mass the size of a golf ball biopsied. She says she didn't feel a thing. The co-worker's boyfriend was in college at the time, partying at a hotel in Mexico. He fell off the third-floor balcony and, if you can believe it, was picked up and carried back to his hotel room where his friends tucked him into bed for the rest of the night. It was only the next morning, after he'd been taken to an American hospital by medevac, that his collapsed lung was discovered and a steel rod was placed through his body. Still, I think the average individual would feel something if his lung collapsed. Shortness of breath to say the least. So maybe it's like this: You feel a collapsed lung, unless you have bigger things to worry about. Like the possibility of lung cancer or a broken back.
Speaking of bigger things, the little man has finished with the straw, content with its placement, and is walking around with an Allen wrench. I'm impressed by how much he's able to store in those tiny pockets of his. I watch him scramble around, kneeling down to tighten screws in three separate places, knitting my ribs closer and closer together. When he is satisfied, he slips the wrench into his back pocket where it disappears with the rest of his toolbox contents. He wipes the sweat off his brow and admires his handiwork. The tightness in my chest is even more pronounced now. I swallow my last bite of pizza and it settles like a lump in the back of my throat. The combination of the straw in my lung and the bolts in my chest makes it incredibly hard to sit up. I want to writhe around, to shake the little man loose. Or at the very least, I'd like to lie down.
Maybe I will just keel over and die. You hear about that, don't you? It happens all the time with older couples: After years of marriage together, one dies and the other, perfectly healthy, save for the usual creaks and aches that old age brings, follows shortly after. I used to think maybe I could be so lucky. I'm sure my friends and family worried for a while that I might do something stupid to harm myself, but I'm afraid of pain and suffering. I've seen enough of that. However, if I could somehow relay the message to my heart to just stop beating one day, that wouldn't be such a bad deal. Nice and neat. To pull off such a feat must require a tremendous amount of trust and coordination between organs, the kind that only comes after spending a lifetime together. That's the only way I can explain why only older people die of a broken heart. Young people just aren't there yet with their anatomy. Even if they tell their hearts to stop beating, there's no way for their hearts to know how serious they are.
Sitting at my desk, I can't move around too much or lie down, but I need to do something or else I might implode. I could cry. I've cried at my desk before, the kind of tears that are hot and silent. But I don't trust the character of these tears today. I feel them swell inside me, a water balloon the little man has filled too full. It threatens to burst at any minute. I throw the rest of my lunch in the trash and try to get it together.
"Sobrina?" My boss Lisa calls me from two desks away.
"Yeah?" I look up. The little man pauses.
"Can you come take a look at this?" Lisa asks.
I get up and walk towards her. Because I don't know what else to do with it, I bring the water balloon with me, gingerly carrying it in my hands.
She whips around and smiles at me. I nearly drop it.
"I thought that meeting went well today. Do you?" Lisa asks.
"Yeah, I thought it went well, too," I say.
The water balloon is shaking. I look down and realize my hands are trembling. I want to tell her everything—that I can hardly breathe today, that the water balloon might pop at any minute. I open my mouth, but before I can get a word out, she turns back around to face her computer screen.
"I'm just recapping the discussion in an email to the group. Am I missing any next steps here?" Lisa asks.
I swallow hard. The water balloon in my hands creates a space between us so I lean in closer to read her screen.
"I think you got it all," I say.
"Thanks." She smiles warmly and goes back to finishing her email.
•••
I have one more meeting before the day is over. This one is with my marketing communications team, a sub-group within the larger marketing department. We meet once a week, usually on a Monday, to provide status updates on our projects. Sometimes we'll show each other what we're working on. We go in a circle, one by one. I try to focus on what my teammates are saying, but it's hopeless. I sit quietly, taking shallow breaths in an attempt to keep everything inside.
"And how about you, Sobrina? What are you working on?" Lisa asks, pulling my attention back into the room.
A lump rises in the back of my throat.
"This week…" I trail off. I look down at the to-do list I've been working on all day. Just read off the list, I tell myself. "I'm working on the positioning for the new media product."
Lisa nods and jots it down in purple ink on her clipboard.
I shift in my seat.
"And I'm working with the design team to finalize the retail brochure," I say.
The water balloon has stopped quivering quite as much. I place it on the table next to my notebook so I can read through my list faster. I'm surprised that it stays put and doesn't roll off the edge.
"I was hoping to share our editorial ideas with the PR team this week. Did you get a chance to review those?" I ask Lisa.
"I'll make sure I look at those," Lisa says, circling a note to herself.
"And that's it," I lie. I need to get out of the room. I can feel the little man boring holes in my chest, and I'm certain everyone can see my discomfort. When I look up from my list, though, everyone is buried deep in their laptops. Lisa retracts her pen and places it back down on the table, concluding the meeting.
•••
Nobody can see the little man like they would a scar on my forehead. But he's there in my chest all the time. So it's just me and him. Me and him and the lonely thought that Alan would know but will never know. He would understand in the same way that he understood when we watched the movie about the retired couple visiting Paris. They go away together in the hopes of sparking romance in their tired marriage. It's just a movie, of course, but watching them wandering through the cobblestone streets, arm in arm, made me feel a terrible pinch inside. I wanted to be in the middle of all those lights, walking on those streets, feeling Alan's arm wrapped around me. I wanted all of those things I thought we would have. I hated the old couple.
I looked at Alan asleep next to me, his face and body a shadow of what it used to be. He looked so peaceful, even though I knew seething pain waited for him just around the corner. The tumors in his pelvis ate away at his sacral bones, and physical activity as simple as shifting his weight had become a burden. It hit me that we would never adventure to a new city again, at least not in this life. Bitter tears rolled down my cheeks in disciplined silence. I was Alan's cheerleader, his eternal optimist—that was my job. He could never know about my fears and doubts.
As I cried, hating that old couple—hating all old couples—Alan's hand reached out for mine. I turned, surprised he'd woken up, to see his blue eyes fixed on me. I tried to stop crying, but I couldn't. He held onto my hand, patiently waiting.
After a minute, I told him, "I just always wanted to go with you."
"I know," he said softly.
•••
SOBRINA TUNG PIES is a writer and tech marketer living in the Silicon Valley.