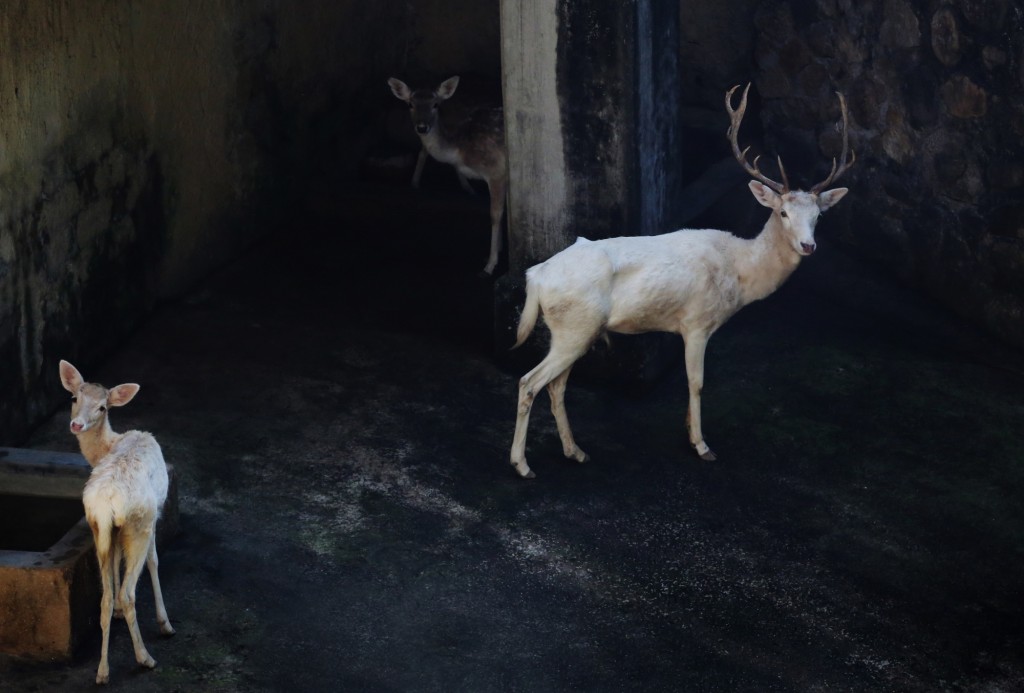 By Renee Simms
The children wriggled and cursed in the old SUV, summoning me to exhortations about proper car-riding behavior. "Y'all know better!" I warned. I turned down whatever music was playing. I did these things while I watched traffic conditions on 30th street, which, if you're traveling east in Tacoma, has a precipitous, San Francisco-esque drop. As you drive, you will feel your fingers tighten against the steering wheel once you realize that you can't see beyond the approaching precipice. You'll slow down, and that's when you'll catch a glimpse of it—the entire Puget Sound. You've got your bluish water and snow-capped mountains, the old barges dotting the coast. Porch lights wink from houses pushed far into the hills. This view is tantamount to falling in love.
Driving west, though, it's all uphill. That's the direction that I was traveling. My Rodeo was, at the time, twelve years old. I liked the vehicle just fine even though its manufacturer was a company best known for making good lawnmowers. As the children teased each other and bucked in their seats, my Rodeo stayed focused on the road. She climbed the hill with all her inelegant noise: a sound like cicadas trapped inside the engine.
"Do not call your sister names," I said, or something close to that. Perhaps, I told my raucous kids to "Shut up." I don't recall. It was late and I was tired, plus my night vision is poor and there was very little light. The sky had a moon so slight that evening, you could say that it wasn't even there. When we reached the top of the hill, I stopped to turn left onto Union Avenue. I waited and waited and waited. Each set of headlights that passed by blinded me for a couple of seconds. Finally, there was a break in cars and I completed my left turn. This is when I saw the delicate fawn in the street.
The fawn tottered on its pencil legs, froze, then bounded away. The poor thing probably saw us before we spotted it. Nocturnal animals like deer have what's called tapetum lucidum, a layer of tissue over the eye that reflects light and gives them good night vision. I pounded my brakes and swerved the car. We stopped within inches of the deer. "Ohhhhh!" my daughter said. "Where is its mom? Why is it all alone?"
"I don't know," I said. My heart thumped in my chest. "It's a rough world out here in the animal kingdom."
•••
According to its website, the state of Washington's Department of Fish & Wildlife gets phone calls each year about orphaned fawns. People stumble across the fawns curled up in tall grass in the woods, seemingly alone in the world. Usually they are not alone. The mother-doe is hidden nearby where you can't see her. She keeps a watchful eye on her offspring, but the range she allows her young to roam is far and wide.
•••
After we settled down, I drove my children back to the 1920s cottage that I was renting near the university where I worked. The kids were visiting me for one week. They lived most days with their father, my ex-partner, whose home was just outside of Phoenix. Like the animal we'd encountered that night, my children were seemingly without a mother during most of that year. I'd decided in May to take a two-year, visiting faculty position in Tacoma. My ex and I decided that the kids would stay with him during the first year of my appointment. It only seemed to make sense. From the time I got the job, I had less than twelve weeks to find a place to live, to move from Phoenix to Tacoma, and to prepare to teach three classes. There was no way that I could also uproot my children and enroll them in a school system I did not know.
So, instead of spinning my wheels over how I would bring the children with me, I planned for their year without a mom. We all have certain details about parenting which we covet. I knew the details that I paid attention to might be overlooked by their father while I was away. So before I left, I investigated babysitters and talked with relatives and friends about how they could help us watch the kids. I made sure the woman who braided my daughter's hair had my ex's cell phone number. I purchased school supplies for the upcoming year. Even after I was gone, I kept in touch with the kids' school teachers via email and phone. Although I would not be there in the flesh with my children, I was still around keeping a watchful eye.
•••
Deer are a uniparental species. The father deer, the ones with the big, scary antlers, are around to make the babies and then they're gone. You will not see them hanging out with doe or fawn. If you spot a male deer in a herd, chances are that every deer in that group is male. Fawn are cared for by their mothers only. The mama deer do everything for the babies, including eating their droppings and urine so that predators won't catch scent of them.
•••
What surprised me most about my decision to leave my children in Arizona was the reaction of my friends and relatives. You would think my kids didn't have a working, able-bodied father who loves them madly. "You can't leave them with their father. Their father? Children need their mothers," one friend said.
"Why don't you take them with you? Your students will babysit the kids," another friend said.
Each person I consulted was well-intentioned. They were expressing genuine concern for my family's well-being. Still, the tone of alarm in their voices and the repetition of frightful scenarios like the ones my father liked to put in my ear, made me doubt my own decision. For example, my daddy insisted I research the sexual predators in my neighborhood so we'd know who was watching the kids walk to the school bus stop while I was away. I told him that we'd lived there for nine years without such information.
Other people's fears and doubts became my own. As a result, the hardest part of my year away from my children was not the months when I was on a mountain and they were in the desert; it was having the courage to leave them with their father in the first place. I was trusting that I was making the right decision for everybody involved. The conventional wisdom was that I was the primary caretaker and needed to live in the same house with my children. But I was also a provider, and taking a job that increased my income counted as taking care of my kids, too. I can't imagine that a man in my position would have been counseled the same way about this transition. I can't see him being told that moving to a new city while single-parenting and starting a new job was a sane or normal balancing act. In the end, I decided I would not multitask in this way. It was hard to trust my own conscience about this. Then there was the actual moment when I had to say goodbye.
We said our farewells in mid-July, two days after movers loaded my boxes onto a twenty-two foot straight truck. My shipping order included the usual domestic items, like linen and dishware, but also fifty small and medium-sized boxes of books. The only furniture that I took from the Arizona house was a bed and writing desk. Their absence—the way the bookshelves and floor had visible gaps of unoccupied space—was, by the time the airport shuttle arrived, the only evidence that I was leaving. The rest of the house was intact. My ex had even moved back in for this one year. A clear light came through the windows that morning. Its brightness made me hopeful even though the shuttle driver, who was five minutes early, had robbed me of final moments with my kids.
My son was the first to rise from the couch and walk in shiny athletic shorts and no shirt to where I'd paused at the door. At eleven years old, he stood nearly my height. His thin body and sway-backed posture at one time reminded me of an apostrophe. Now, as his shoulders broadened over a small waist, his upper body resembled an inverted triangle or wings. We hugged. My daughter, who was six, ran up and wrapped her thin arms around my thighs. Then I embraced my ex. For a brief moment, we were a family huddled near our home's threshold. In the next second, I would be through that door and inside the blue airport van. I wouldn't see my kids for the next three months.
The other difficult part of leaving was accepting that my life could be full of similar curveballs in the future. I had never anticipated divorce; nobody does. Similarly, it never crossed my mind that I would have to take a job in another state in order to care for my kids. Nor did I think I'd be single in my forties, that I'd have to think about my safety at night or how I present at private parties where everyone else is coupled-up.
I'd told my daughter the night we saw the deer that the animal world wasn't quite like ours, that it was unpredictable and dangerous. "Sometimes a fawn is just on its own," I'd said. But the truth is that we are just as vulnerable as animals that walk on cloven hooves. This becomes most clear when we're stripped of institutions like marriage or when we experience health problems or economic insecurity. It's when our bodily functions fail us or we're hungry without knowing when we'll eat; it's when we've been physically harmed by another person that we recognize life's brutal underbelly. Sure, we erect boundaries between civilized society and the wild side, but these boundaries are easily crossed and civilizing tendencies require our constant attention.
•••
Deer are mostly vegetarian, although they will eat meat on occasions. Some of the vegetation that can attract deer to your yard are dandelion, clover, wheatgrass, mushrooms, and other fungi. If you want to keep deer out of your yard, the Washington Department of Fish and Wildlife suggests deer-repellant landscaping. Shrubs which deer don't like to eat include globe thistle, lavender, oregano, rue, pine, birch, fig, trillium, lilac, and yarrow.
•••
A friend in the Midwest recently told me about a family of deer living in her mother's backyard. She used this story as an example of the way that nature was making its return to this urban area that has been in decline for several decades. It was a way to paint the picture of a crumbling city and infrastructure. "Can you believe it? Living in the backyard!" she said. I was struck by how the appearance of deer were interpreted by my friend and how differently they are seen here in my neighborhood in the Pacific Northwest. I don't have deer living in my backyard, but they sure bounce through it on occasion, and I'd wager that my neighbors consider deer as part of the area's charm. Living close to wildlife means different things depending on a person's context.
Take the deer I saw this summer in the South on a college campus where I attended a writers' conference. The deer were considered by most writers as magical and spritely, as evidence that we were in a pastoral setting conducive to ideas, instead of the crammed cities where so many of us live. The deer, for their part, pranced in and out of our view as if the college campus was their world and we were in it by happenstance.
I have summers without the children, now, which allows me to attend professional events like writing conferences. My kids live with their dad in the summer and they live with me during the school year or nine months out of the year. It's an arrangement that works, but again, it's one I didn't anticipate years ago. As I walked this latest conference one night, I saw a herd of deer near a tree. There were at least seven or eight of them huddled together. I'll admit right here that I was slightly drunk, but I'm pretty certain of what I saw. As I walked closer to the animals I saw young and old deer, mostly doe, and one gargantuan male. As the doe and fawn nibbled the grass, heads down, the antlered deer kept his eyes on me as if saying, "Keep it moving, woman, and don't step any closer." I was in awe. The next morning, I told another writer who's a good friend and poet and he said, "That's incredible! The males rarely hang out with females and fawns." He was right. That's what I've read to be true about these creatures of the forest and woods. But stranger things, I imagine, happen all the time.
•••
RENEE SIMMS writes fiction and essays which have beeen widely published. She is putting the final touches on a story collection, Because We Were Miles from Home, while teaching and parenting outside Tacoma.