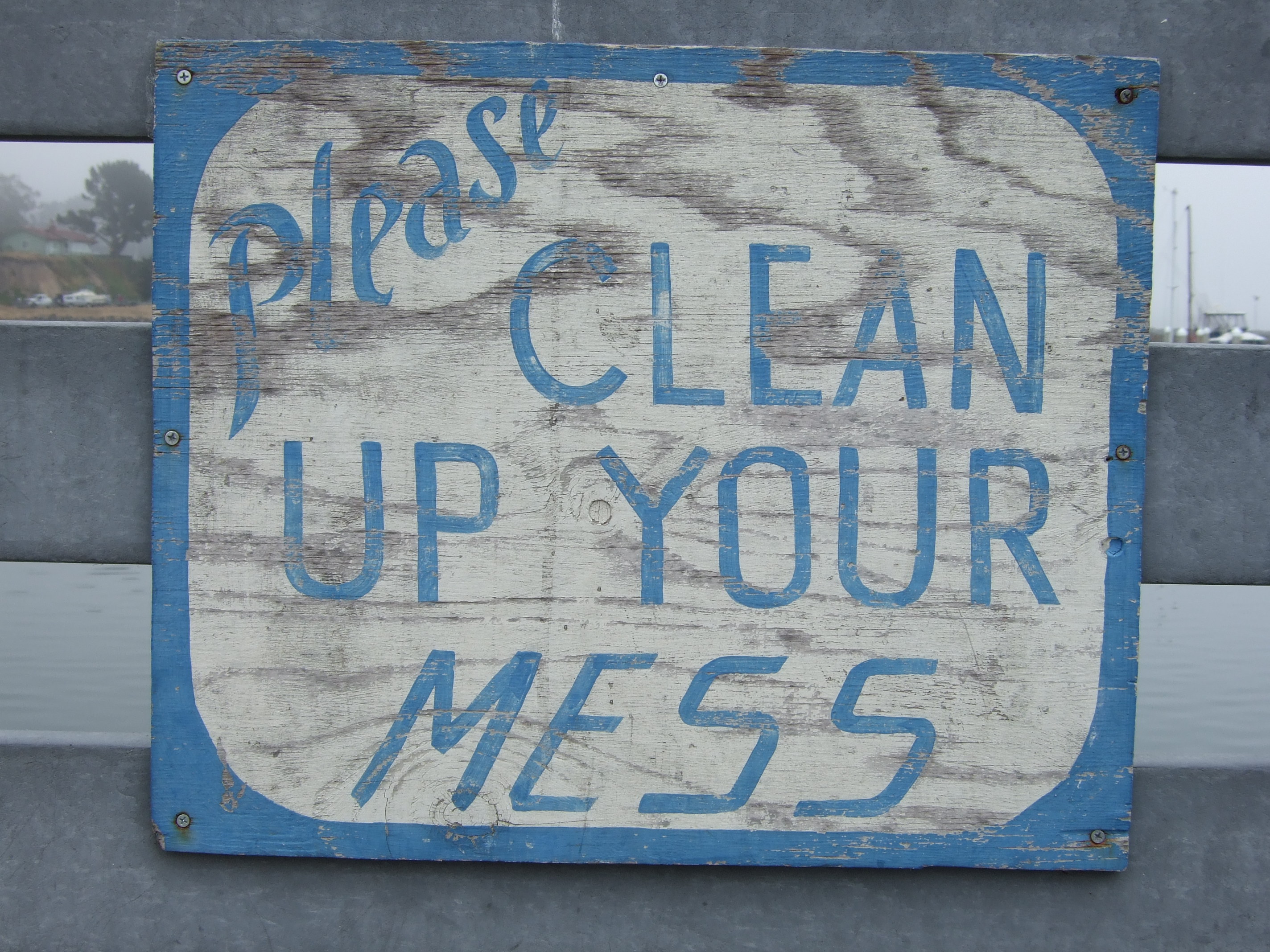 By Rebecca Weaver
Oh my god … what is that smell? My boss and I had just crossed the threshold of his house. Dark, shades drawn. Bikes and skateboards in the corner and hanging from the wall. A couch converted into a bed in the living room. He had a greasy brown ponytail and pale blue eyes, one of which would twitch unpredictably. The second you thought it was done, it started up again. Mostly he kept his eyes on the floor.
"So, yeah. It's been a while. I lost my last cleaner a couple weeks ago."
An orange cat with matted hair strolled across the back of the sofa to me. I reached my hand out to pet it. It sniffed and backed away.
"Yeah, they're shy," he said to the floor.
"I like cats," I said.
"Oh!" My boss looked around. "You have more!"
Across the living room, two were lolling around on the couch atop what looked like a baby blanket of cat fur. Polluted cream clouds against navy blue cushions. In the slants of daylight I could see wisps of hair floating. It had to be at least a year since any other human had been in this place. My eyes watered. I'm not even allergic. By the time my day was over I would count six cats, but there may have been more.
"Well, give us a tour!" my boss said.
•••
I started cleaning houses in 2011 a couple months after I graduated from college. I had moved to the Bay Area with my older boyfriend, and I—along with my degree in Dramatic Literature—couldn't get a job anywhere. The recession and the boom in Silicon Valley were chewing up San Francisco and even the coffee shop baristas were really out-of-work professionals in their thirties and forties making latte art. The hipster cafe (we still called them hipsters then) was getting into full swing. I'd only worked in shitty coffee shops earlier in the 2000s when they were grungier, less sleek, with more couches and board games and plants, java vibes held over from the nineties.
I didn't want a job but I needed one. I mostly wanted to be left alone. It was a relief to clean. My dad had just died two years earlier from cancer and I saw his face all day long. Sometimes he was healthy and laughing, and sometimes his face was gray like cement and his hair was growing back in mousy patches after the chemo.
My motivation to begin a post-college life was unpredictable. I kept making to-do lists to start an acting career or to write a novel, but the lists just made me feel like a failure. I'd set up auditions then wouldn't show up, unable to imagine how I could ever speak in front of people again. I had panic attacks where it felt like my blood was carbonated and I was afraid I might start screaming any moment.
A funny thing that happens when you're in deep grief: you forget why you're depressed. I spent years waking up and reminding myself that my dad was dead. Later in the day I would forget and try to remember why I wasn't able to drag myself to the dentist or wash the dishes. And then I would have to tell myself: Your dad's dead, he died from cancer, he was white and skeletal the last time you saw him, he looked down at his hands when the hospice nurse spoke, he was embarrassed when he knocked his coffee over at Christmas because he was less than a month away from dying and he was weaker than anyone knew or could understand.
And I would think, Oh, that's right. I would then collapse and crawl into bed and click around on health websites or read books on how not to get cancer.
I didn't have any friends in the Bay Area and, while I wanted them desperately, I couldn't handle people my own age, their happiness, their bored wit. I had nothing but emptiness; even my laugh sounded false and far away to me. I had studied acting in school and I wanted nothing more than to be invisible.
•••
My boss—I'll call her Dani—was a springy soccer mom with wiry hair, zero body fat, and the best, chipperest, can-do attitude I've ever seen. She wore sweatshirts with the neck cut out like in Flashdance, leggings, and white Reebok sneakers. She once injured her back in yoga class because she wanted to be the best. We found each other on Craigslist and I started cleaning the day after she hired me.
Sometimes Dani would meet me on the road in front of the house and we'd tour it together, but other times I'd be on my own. People showed me their cleaning supplies and told me how they liked certain things done. One woman had a typed up list for every single surface of her home and a specific cleaner required for each item, including faucets and light fixtures. In a Berkeley apartment an old cat swatted at me and meowed sourly like it was sick. It stalked me around the apartment and couldn't be deterred even when I threatened to hit it with a chair. I got it behind a bathtub and had to call my boyfriend. He came and chased it out with a broom and it screamed its way into the guest room I'd already cleaned. We locked it in and, when I left, I opened that door and ran. One house had two heavy metal musicians that had gargoyles for knobs on their kitchen cabinets. In their bathroom they had essential oils and Chanel products and in their basement they had a thousand dollar sauna.
My boyfriend and I were living in an in-law apartment in the hills of El Cerrito—the cheapest place we could find with some of the biggest spiders I've ever seen and an incredible view of San Francisco. We didn't have a couch so we hung out on the futon mattress on the floor or on a blanket on the carpet by the TV. At night we'd look across the bay at the city we couldn't afford.
Our landlord, who I'll call Jim, was a skinny Carradine brother–lookalike in his sixties with a gray bushy mustache and wild eyes. He liked to chitchat and once caught me for two hours by describing at least five different episodes of Ancient Aliens and bringing down a photo album with photos of his old girlfriends and his fiancée who had been a model and had died tragically from cancer. Once I had to go up into his home to deal with the WiFi, and he had Playboy covers from the eighties in frames on his wood panel walls.
Another time he wanted to show me an option for a refrigerator he had in his garage. The garage was filled to the ceiling, three quarters of it full, with boxes stacked haphazardly on top of one another. They looked like they hadn't been moved in a long time and the cardboard had softened over years of fog rolling in across the bay. He pointed at the boxes. "My mother's wedding dress is in there. I can't bear to go through her things." His mother had died the same week as his fiancée. Almost twenty years ago.
•••
My boss and I toured the rest of his home, a bungalow on a dead end street in Oakland. The cats scattered as we walked the rooms and then softly tiptoed behind us. The kitchen at the back was surprisingly neat, just a couple crumbs on the counter. The bedroom seemed all right although the air was suffocating. As it turned out later, there was solid mass of white and gray cat hair under the bed an inch thick, like a secret rug.
He brought us to his office, a long narrow room running the length of his living room on the opposite side of the house. There was an enormous desktop computer setup with speakers and a soundboard where he would later sit almost the entire time I was cleaning. The smell was pervasive in here, sharp and unwell. In the corner was a closet without a door, a bright light overhead. He nodded toward it. "So the real part that needs to be cleaned is over here." We walked over and hit a wall of ammonia and stench I'd never experienced before nor since.
Twenty-five square feet of cat piss. The two boxes of kitty litter were overloaded and the cats had taken to going on the floor where he'd spread newspapers. It was clear he'd waited maybe a year, maybe more to clean this closet other than a quick scoop of the kitty litter and another layer of newspaper which was now about one to two inches thick. I could see cat urine shining on some of the rotting floorboards where there were holes in the paper. A cat hopped out and ran past us, leaving wet paw prints through the office.
"Wow! Oh! Okay!" Dani clapped her hands and turned away. She smiled wildly, blinking hard, her knuckles whitening in front of her chest. I kept my face neutral and held my breath. We looked at each other a second. The room was silent as her mind ticked. She's getting me out of this, I thought. This is not part of the job description.
"Well!" she said finally. "She's gonna need some gloves!" She pointed a finger at the sky, triumphant.
"Yeah, I got some," he said from the other side of the room. He'd never even come with us to the closet but instead watched us from afar, testing the waters.
"Well, how about she leaves that"—she stepped delicately away from the closet and I followed—"to the end, cause that's a big job!" I'm from the Midwest and I can tell you that there was practically a "dontcha know" at the end of that chipperest of statements. It was all well and good. We'd take care of it—meaning me.
"Yeah, well, that's the main thing I need done." His eye twitched as he looked around at his walls, his fingernails, anything but us.
"Well, it's a whole house cleaning we agreed on, so that will wait to the end." Dani pinched her lips, firm, and he agreed as he walked her to the door.
A few minutes later she was gone and I was cleaning, sucking the hair carpet and kitty litter crumbs off his couch, dusting tables and shelves that hadn't been cleaned in a year. He barely had enough rags for the job. I eventually resorted to vacuuming his shelves of cat hair and dust before using a cloth. He worked at his computer, some unknown alt-rock playing on his speakers. Every once in a while he'd laugh asthmatically at something online. He sat five feet away from the cat closet. I had to step out to his backyard regularly just to breathe.
•••
Recently, back in Wisconsin, my mom had had to put down our dog Hans. Hans was a huge, fluffy Golden Retriever that would lie on the bed with her when she cried for my dad. The dog would rest his squishy face by hers and let her release her tears in a torrent and wait patiently for her to let it go. His legs had always been weak and one day they stopped working and he couldn't carry himself any longer. She was on her own in our family home and I was in California, cleaning houses. When she told me Hans was gone, I fell to the floor in my kitchen and sobbed uncontrollably until my neighbor knocked softly on the wall to please stop.
It occurred to me once that cleaning people's houses felt as if I were helping to prevent their homes from rotting. The moisture on the bathroom ceiling, the dust on the bookshelves. Dead skin cells everywhere. I cleaned and thought about how we were all trying so hard not to die. Stainless steel in the kitchens. Everyone wanted it and yet the stains were sometimes impossible to remove. It reminded me of fingerprints on iPhones, but permanent. A polished lifestyle that had no room for human dirt and oil. Touchscreens that aren't meant to be touched.
•••
I once wrote a script for a short film about this experience. I wrote the Cleaning Girl working her way through his home with one eye on the guy the whole time. Petting the cats when she could for comfort. Avoiding turning her back on him for too long because sometimes she could feel his twitching eye on her body. Texting her boyfriend out on the back stoop so someone knew where she was. The Cat Guy passive aggressively bringing up the closet two, three, four times as a reminder that "that had to get done," while she insisted every time that she had to clean everything else first. Only in this version the Cleaning Girl found her courage and stood up to the Cat Guy, called him "disgusting," and threatened to call Animal Services, eventually storming out. She even gave a cupcake to a homeless guy on the way to the freeway at the end because what the hell, why not.
I never made that short film.
This story is not like that one. This is the story of how I did the job.
I had the gloves. I should have had goggles. The air was thick with dander and urine. Stinging, acidic, ammonic in my lungs, I imagined them raw and red like the back of your throat when you're sick, though really I have no idea what lungs look like other than drawings from textbooks. My entire chest hurt and my eyes watered and my nose burned all the way up through my forehead. I closed my mouth and worked as long as I could without breathing but then I realized I had to and breathed under my shirt which kept slipping as I carefully picked up flat, inch-thick pads of newspaper, soaked in cat urine and shoved them into plastic garbage bags.
The cats watched me from around the corner, eyes wide in that pointed, appalled way that cats have, glancing down at their soggy, rotting bathroom and back up at me.
•••
I drove home without the radio on. Rush hour from Oakland to the Berkeley Hills. My head throbbed all the way to the back of my skull. I didn't know if I could tell my boyfriend or my mom or anyone. I had taken my shoes off and put them on a newspaper I'd found on the floor in the back. Soles sticky with cat piss.
I got home and scrubbed myself raw in the shower and crawled into bed. It was six o'clock on a Friday and I would spend the entire weekend sick in bed with head and body aches. I clicked around on my computer and found a movie on Netflix and waited for my boyfriend to come home. I was sick and I hated myself but I really didn't mind. I was grateful for a reason to fall apart. My dad had been dead for over two years and my mom was alone and I was doing the wrong thing in the wrong place and it felt exactly, exactly right.
•••
REBECCA WEAVER is a writer/director/actor raised in Wisconsin and living in Los Angeles. Her first feature film, June Falling Down, is currently playing at film festivals around the country. Visit JuneFallingDown.com and SilverLeafFilms.net to learn more about her work.