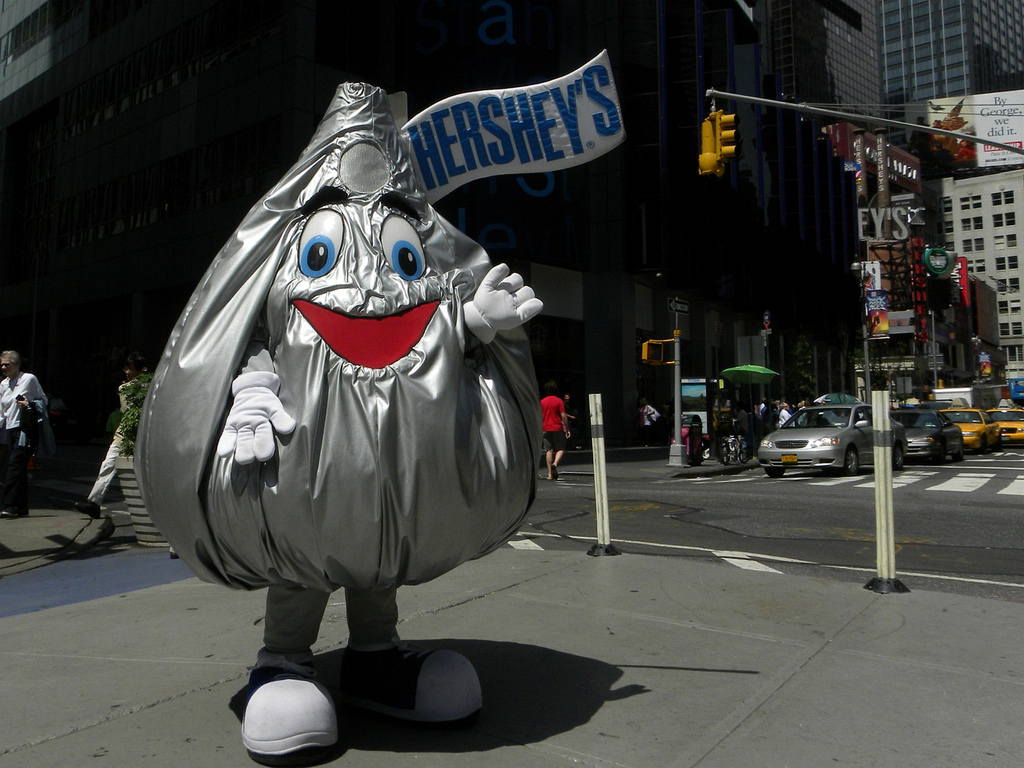 By Amy E. Robillard
At the brand new HomeGoods, I buy thirty-eight dollars worth of things I don't need. A tablecloth. Cloth napkins in an autumnal print. Two new dog toys that I'd been planning to save for Christmas, but when I walked into the house with all of my crap from the afternoon, one of the toys fell out of the bag and Essay spotted it and immediately ran to it and squeaked it. I couldn't very well hide it away until Christmas. I also buy a roll of wrapping paper decorated with colorful donuts. I love donuts. They're the comfort food I most often turn to in times of distress. When Steve was in the hospital for his emergency gallbladder surgery last winter, there were mini donuts in the house, and I picked up fresh donuts on the way to see him in the mornings.
I would probably spend more time and more money at HomeGoods this Friday afternoon, but it's hot, so very hot for late September, and I have chocolate in the car. I'm worried that it will melt if I stay in the store too long. But there's another reason I don't stay very long.
The store reminds me so much of Christy and, as I see things that the two of us would get a kick out of, it hurts to think about how that store used to be a destination for us when our town didn't yet have one, when it was only in Peoria or Shorewood. I pick up a mug designed to look like it was a mummy all wrapped up, just two eyes poking out, and I chuckle. I hear myself saying to Christy, "But I'm not allowed. I have too many already."
Now Christy and I no longer speak because I told her husband, who is also my boss, that I had grown tired of his refusal to hear the things I said. In the strange logic of adult friendships, this meant that, because my boss and I were no longer friends, Christy and I also could not remain friends. Surely the two of them had interpreted my explanation in ways I cannot guess because that's what people do. We defend our egos and our identities and we wrap ourselves up in stories that portray us as the innocent party even as we don't realize we're doing so. Only our eyes poke out.
The parking lot had recently been repaved, and the heat reflecting off of the deep blue asphalt is oppressive. When I get in the car, I turn the A/C up high. I feel around in the back seat for the Target bag with the chocolate bars; they still seem to be holding their shape. I rip open the bag of mini Hershey bars and take one out as the A/C begins to cool the car down. I tear open the deep brown wrapper and the familiar chocolate squares are soft, just beginning to melt. At this stage they are easily malleable, and I can imagine that it would not take much effort to manipulate this bar into another shape altogether. I imagine blending a bunch of little bars together to form a ball of chocolate. Or, with just a little more heat applied, melting four or five bars together to form chocolate soup. Shape-shifting. No more sign of the Hershey's logo on each individual rectangle.
I pull up to a long line of cars waiting to leave the shopping plaza, and I feel that familiar dread that comes with recognizing that the cardboard sign that the sunburned, bearded, gray-haired man holds. It says he's a homeless veteran waiting on public assistance that has not yet kicked in. He's hungry. I have maybe three dollars cash in my wallet, three dollars that would surely help him, but still I make a point to pull in to the middle lane to ensure that another lane of cars will form a boundary between his suffering and me in my air-conditioned SUV with my bag of chocolate and my thirty-eight dollars worth of unnecessary purchases from HomeGoods. I turn my head away, check my phone, and then look out the other side of the car.
What I see on that side of the road is perhaps more disturbing. Two human beings make their way slowly toward the intersection of the busy roads. One is dressed in a cheap suit, with hair that at one point that morning was probably slicked back but is now stiffly hanging in the faint breeze. He's smoking a cigarette, looking for all the world like the real-life version of Saul Goodman ('s all good, man) The other is dressed like the sun, wearing what looks to be a very heavy and very hot perfectly spherical bright yellow costume, covered all around with little orange felt triangles meant to represent the sun's rays. The person's arms are covered in black material and poke out from two holes in the sun. The sun character wears black sunglasses (the irony!) and an exaggerated smile. The person in the sun costume walks very slowly, careful to step up on to the curb, and the man in the cheap suit puts his arms out as if to catch the Sun if she falls. The Sun carries a small, cardboard, professionally printed sign. Once the man and the Sun get to the place the man wants the Sun to be, he puts his arms on the roundest part of the Sun's back and sort of positions her in place. The Sun then begins jumping in place with the sign advertising, I realize now, Sun Loans.
The man in the cheap suit walks slowly back to the shopping plaza, cigarette poised between his lips, ashes about to fall on the ground. He is in no kind of hurry to get back to his desk at Sun Loans.
The light finally changes. I leave behind the Sun with her sign advertising loans at what is surely a rate close to usury. I leave behind the veteran with his sign advertising America's shameful treatment of those who have fought for our freedom. I leave behind the scorching heat of that parking lot and I think about the things I bought that I did not need.
I think about the irony of those two figures standing on either side of the busy intersection. They are both anonymous. One is sunburnt from standing outside too long, begging for money to feed and clothe himself. He is weary from standing on his feet all day. He is tired. He is ashamed of having to beg strangers for money to fulfill his basic needs. The other is covered, head to toe, in a costumed designed to look like the sun. She cannot stand still. She must jump up and down and wave her sign to get the attention of drivers as they pass. She wears a suit made of heavy felt that must weigh at least forty pounds. She is both protected from the sun and she is the Sun. She is likely filled with shame but we cannot see her face, so she is protected from our judgment. She cannot be making more than minimum wage. She has been driven to this street corner by forces similar to those that drive the veteran: a desire to feed, clothe, and shelter herself.
•••
When we were fourteen, my best friend Hillary and I worked illegally as dishwashers at Jake's Restaurant in the mall. We were paid four dollars an hour to spray down the dishes before putting them in the massive dishwasher and to scrub the pots and pans by hand. When we recall this very first paying job, we tell two stories. The first is that, when the pots and pans were particularly disgusting, with caked-on food that would take real elbow grease to scrub off, I would hold one out, look at Hillary, and drop it into the trash can. Next!
The second is that, one night Hillary and I had a party to go to. At this party would be the two eighteen-year-old boys (men!) we were attracted to and who we thought were maybe interested in us. We stacked dishes and scrubbed pots for a couple hours until, at the same moment, we each looked at our watches and decided to run. We quit our jobs without so much as a word by running out the back door. We ran and ran. All the way to the bus stop at the mall's main entrance, where we then waited for the bus to take us home.
When asked as a child what I wanted to be when I grew up, I would respond that I wanted to be either a fireman (masculine pronoun) or Little Red Riding Hood. It seems I had a thing for running into, rather than away from, danger.
I cannot recall any responses to my expressed desires to put out fires or to deliver baked goods to my grandmother in the woods. What strikes me instead, now, as I think about the Sun jumping in place and Hillary and I running out on our first jobs, is that work is something that we are asked to begin anticipating from the youngest of ages, something we are encouraged to shape our entire lives around, but the jobs that perhaps shape us the most are the ones that are understood to be detours on the way to a career.
•••
The street lamps in downtown Hershey, Pennsylvania are shaped like Hershey kisses and alternate wrapped, unwrapped, wrapped, unwrapped. Silver foil with the trademark paper plume billowing from the top followed by plain milk chocolate.
When I was in my mid-twenties, I taught for a summer at the Milton Hershey school in Hershey, Pennsylvania. I was working for a private study skills company called Readak, which would contract with private schools to teach six- or eight- or twelve-week study skills courses to middle- and high-school students before and after school hours. The Milton Hershey School was my fifth of seven assignments, my last being The American School in Barcelona.
Milton Hershey and his wife Catherine established the school for orphaned boys, beginning with the children they had adopted when they could not conceive children of their own. Today boys and girls of all ages, largely from impoverished backgrounds and largely from Pennsylvania, attend the boarding school and live with married couples called houseparents. While I taught there, I lived in an apartment beneath one of the homes housing middle-school-aged girls, and it was everything I could do to not set the entire building on fire while attempting one night to make stir-fry. Each morning, food was delivered to the homes, and whenever there was too much, which was often, the houseparents, whose names I can no longer remember, offered me fresh produce that might otherwise go to waste. I would wake up in the mornings and take long walks around the school's property, the decadent smell of milk chocolate in the air.
Children who attended the Milton Hershey School were cared for completely, from food and housing to medical and dental care, to clothing and computers and school supplies. What struck me the most, though, were the nightly dinners I was so often invited to join. The houseparents would tell me dinner was going to be family style, but I had no idea what that meant. I came from a family, but in my family, we ate alone in front of the television or we watched our mother eat standing up near the stove because she didn't have the patience to sit down at the table before returning to the living room to watch her shows. I was twenty-six years old and I didn't know what it meant to sit down at a table and eat a meal family style. What had we been doing all my life? Fend-for-yourself-style.
At the other Readak assignments across the country—in Wisconsin and Michigan and Nebraska—I would stay with families of the children I taught. A family would open their home to me, and I would move in to their extra bedroom and become a part of their family for six or eight weeks. They wrapped me up in their lives, including me in everything from the glass of wine with family dinner to the football games on Saturdays. And when I left, they hugged me goodbye. In between, I taught their children and their classmates study skills.
I cried during only one placement and that was because of a fifth-grade child whose name I can no longer remember. Let's call him Jack. Fifth grade was too young. I did not recall signing up for kids this young, but somehow, at this school in Cincinnati, fifth grade qualified as middle school. I could not control the kids. They did not listen to me. They talked over me. They shouted over me and they did not give a whit about study skills. And Jack—now that I look back, Jack probably had a learning disability or ADHD, but at the time, I didn't know and I didn't care. I just wanted him to shut up so I could teach him to take better notes. I called his mother in the evenings and asked her to ask him to please sit still, to please stop talking incessantly.
What I wrote just now about crying only once? That was a lie. I cried in Barcelona, too. There I cried because I was supposed to be teaching on a Saturday morning but the school was locked and I didn't have any way of reaching anybody to let me in, but the parents had already dropped off the kids and they all looked at me expectantly. I didn't know what to do. I was tired of teaching study skills. I wanted out. I wanted to start my M.A. program already. I wanted to speak English to more than just these kids. I wanted macaroni and cheese.
I came close to crying during a placement in Beaver Dam, Wisconsin. Instead of being housed with a family, I stayed for six weeks in the infirmary. On one of my first nights, as I tried to fall asleep, I heard footsteps above me in the attic. Many tiny footsteps. Squirrels. What was to stop them from getting into the room where I was sleeping? What was to say that they didn't normally have the run of the place? The next morning I called the Readak office on the verge of tears, only to have the teaching coordinator tell me there wasn't anything she could do about the squirrels from where she was.
One of the speed-reading skills I taught students was called the finger method, and it involved tracing your index finger very quickly along the lines of the text in order to train your eyes to move faster. It was bullshit. And I couldn't very well laugh or smirk when I introduced the "technique" to high school students. I needed them to take me seriously. But come on. The finger method, for crying out loud.
•••
Today I teach both undergraduate and graduate students. I teach writing and rhetoric, and at the start of every semester, I have anxiety dreams in which I cannot control the class. They're shouting over me, they won't sit down, they don't care what I have to say, and eventually I just give up. This has never happened to me in my waking life. But it's my biggest fear. It has stayed with me because of my experience with the fifth-graders.
So much of the work of a life is not visible. It involves shaping and reshaping the stories we tell ourselves about the work we do. It involves changing an emotional detail so that we can be the heroes of our stories rather than the villains. We engage, every day, in emotional work about the work we do, and this emotional labor is really what exhausts us. Shame threatens to eat us alive, so we tell ourselves that it was the children who were the problem, not me as a young teacher with no training on how to handle them.
We wrap ourselves in stories as heavy and as thick as the Sun Loans employee's costume. We tell ourselves that somebody else will give the veteran money. Or, worse, we tell ourselves that the veteran somehow deserves his circumstances.
But like the best work, most of this work is collaborative. We do none of this on our own. We are supported in this emotional labor at every turn by a society that tells us that we are responsible for our own actions at the same time that we should respect those who risked their lives for their country. We have no shortage of stories to choose from. Pick one to wrap yourself up in. When it no longer fits the situation, simply let it go. Wrap. Unwrap.
•••
AMY E. ROBILLARD is an essayist and professor of writing and rhetoric at Illinois State University. She is a regular contributor to Full Grown People, and her essays have also been published on The Rumpus and in Kept Secret: The Half-Truth in Creative Nonfiction.